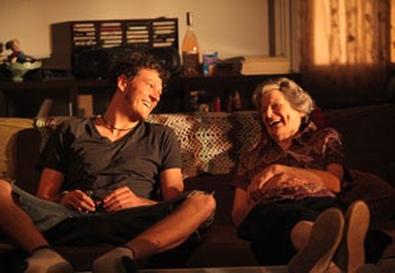 Amy Herzog's new play "4000 Miles" is a bit of a companion piece to "After the Revolution," her captivating political family drama produced at Playwrights Horizons last season, as both plays contain the character of Vera Joseph, a no-nonsense 91-year-old grandmother who's also a member of the Communist Party. Vera is as interesting here as she was in the earlier play, but the story surrounding her is considerably slighter. Herzog's talent still shines, but "4000 Miles" is more successful as character study than as a fully realized dramatic work.

Vera's 21-year-old grandson Leo arrives at her Greenwich Village apartment unexpectedly in the wee hours of the morning, having just completed a transcontinental bike ride. We soon learn that his girlfriend Bec has refused to take him in, he hasn't been in touch with his worried mother for weeks, and his best friend, Micah, died in a horrible traffic accident during the trip. A self-described hippie, Leo has a lot to work out and some growing up to do, and the intuitive, unsentimental Vera lets him do it under her watchful eye.

Daniel Aukin's empathic direction allows the play to breathe nicely and rightly focuses on the relationship between Vera and Leo. Mary Louise Wilson and Gabriel Ebert mix love and affection with an intriguing wariness as grandmother and grandson engage in a delicate dance of accommodation and challenge. Noted for such outsize creations as Big Edie in "Grey Gardens" and Diana Vreeland in "Full Gallop," Wilson works here on a more intimate scale with great success, refusing to settle for feel-good stereotypes of feisty oldsters. For example, when the increasingly memory-challenged Vera accuses Leo of taking her checkbook, Wilson declines to sugarcoat the pettiness of the wince-inducing charge. Tall, broad, and gangly, Ebert has a wonderfully original stage presence that he uses to stress Leo's feelings of otherness, and the actor is particularly adept at silently expressing the inner workings of this considerably internal character.

Zoë Winters overdoes Bec's anger in her first scene, which threatens to swamp the dynamics of Bec's breakup with Leo, but she handles the character's final, unexpected appearance more successfully, touchingly suggesting a deep reservoir of feeling from which Bec is nevertheless determined to move on. As Amanda, a pretty Chinese-American girl Leo brings back to Vera's apartment for a one-night stand, an attractively boisterous Greta Lee can't quite overcome the expectedness of the writing or the feeling of belonging to another play.

The detailed realism of Lauren Helpern's apartment set tells us a good deal about Vera—I loved the metal filing cabinets flanking the sofa as end tables and the red wall-mounted dial telephone—and Kaye Voyce's costumes reinforce that realism effectively. Japhy Weideman's lighting aptly reinforces mood and emotion, especially in the near-blackness accompanying Leo's long monologue about the death of Micah, and sound designer Ryan Rumery adds to that mood by subtly conveying the sounds of the city.

Ultimately, Herzog can't overcome the paucity of dramatic action, and the play peters out in an unsatisfying and rather artificial ending. That said, she has managed to create two original and enticing characters in Vera and Leo, as well as a relationship between these two misfits that's as unusual as it is authentic. That's not chopped liver, and I look forward to Herzog's next play with eager anticipation.

Presented by Lincoln Center Theater/LCT3 as part of the Steinberg New Works Program at the Duke on 42nd Street, 229 W. 42nd St., NYC. June 20–July 9. Mon.–Sat., 8 p.m.; Wed. and Sat., 2 p.m. (646) 223-3010 or www.lct.org. Casting by Daniel Swee.