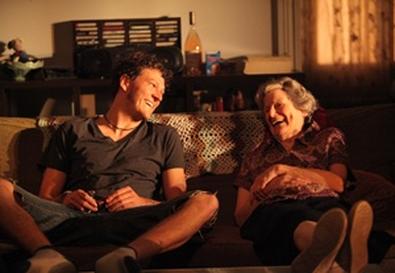 Amy Herzog's "
4000 Miles
" and Kirsten Greenidge's "
Milk Like Sugar
" were among the top winners at the 57th annual Obie Awards on Monday. Presented by the Village Voice, the awards honor excellence in the Off and Off-Off-Broadway theater.
"Where exactly is Off-Off-Broadway?" joked presenter Eric McCormack. "Nobody knows," answered his co-presenter Lily Rabe.
"4000 Miles," currently playing at Lincoln Center's Mitzi Newhouse Theatre, was named best new American play, an honor accompanied by a $1,000 prize for Herzog. Cast members Gabriel Ebert and Mary Louise Wilson were cited for their performances as a drifting young man and his unconventional grandmother.
"Milk Like Sugar," a co-production of Playwrights Horizons and the Women's project, received Obies for Greenidge's playwriting and Cherise Booth's leading performance as a high-school student dealing with peer pressure to join a pregnancy pact.
Ethan Lipton and His Orchestra started the evening with two numbers from their show "
No Place to Go
" which played Joe's Pub earlier this season. The group later won a special Obie citation for the show. Additional entertainment was provided by Joshua Henry and Sumayya Ali from the cast of "The Gershwins' Porgy & Bess" and David Patrick Kelly of "Once." Kelly collected Obies for his show's choreographer Steven Hogget, music supervisor Martin Lowe, and director John Tiffany, all of whom were in Ireland.
Linda Lavin won an award for her scathing portrayal of a narcissistic mother in Nicky Silver's "The Lyons" which played Off-Broadway at the Vineyard Theatre before transferring to Broadway. In the midst of her speech, Lavin paused and waited for the raucous Webster Hall crowd, many of whom were getting drinks at the bar, to settle down.
"I'm not silent so you will be, I just want to be in the moment," she explained. Lavin also admitted she was probably one of the oldest people in the room, but that she loved the energy and vitality of the avant-garde theater crowd. She also reminisced about her early career when all the theaters she played were underground. "It's great to be at street level," she quipped.
Best New American Play (with $1,000 prize)
Amy Herzog
"4000 Miles" (Lincoln Center Theater)
Performance
Cherise Boothe
"Milk Like Sugar" (Playwrights Horizons and the Women's Project)
Steven Boyer
"Hand to God" (Ensemble Studio Theatre/Youngblood)
"Sweet and Sad" Ensemble:
Jon DeVries, Shuler Hensley, Maryann Plunkett, Laila Robins, Jay O. Sanders,
J. Smith-Cameron (The Public Theater)
Gabriel Ebert and Mary Louise Wilson
"4000 Miles" (Lincoln Center Theater)
Jim Fletcher
Sustained Excellence
Santino Fontana
"Sons of the Prophet" (The Roundabout Theatre)
Linda Lavin
"The Lyons" (The Vineyard Theatre)
Susan Pourfar
"Tribes" (Barrow Street Theatre)
Playwriting
Kirsten Greenidge
"Milk Like Sugar" (Playwrights Horizons and the Women's Project)
Direction
Richard Maxwell
"Early Plays" (The Wooster Group and St. Ann's Warehouse)
Jay Scheib
"World of Wires" (The Kitchen)
Design
Mark Barton, Sustained Excellence of Lighting Design
Mimi Lien, Sustained Excellence of Set Design
Matt Tierney and Ben Williams, sound design
"The Select (The Sun Also Rises)" (New York Theatre Workshop)
Special Citations
Mark Bennett, Denis O'Hare, Lisa Peterson, and Stephen Spinella
"An Iliad" (New York Theatre Workshop)
Elevator Repair Service
Sustained Excellence
Erin Courtney and Ken Rus Schmoll
"A Map of Virtue" (13P)
Steven Hoggett, Martin Lowe, and John Tiffany
"Once" (New York Theatre Workshop)
Daniel Kitson
"It's Always Right Now, Until It's Later" (St. Ann's Warehouse)
Ethan Lipton & His Orchestra
"No Place to Go" (The Public Theater/Joe's Pub)
Ross Wetzsteon Grant ($1,000)
Youngblood (Ensemble Studio Theatre)

Grants
The Bushwick Starr ($2,500)
The Debate Society ($2,500)
Lifetime Achievement
Caridad Svich