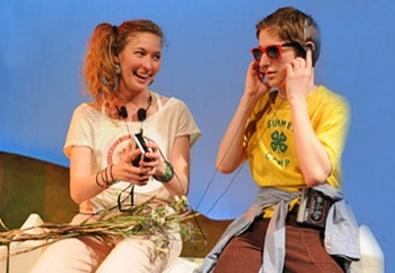 "Raw milk." Only recently have we needed a separate term to describe milk fresh from the cow, since pasteurization, the process that transforms raw milk into the stuff we buy in stores, was invented less than 150 years ago. In "Milk," Emily DeVoti examines what we lose when we choose to homogenize both our milk and, in a bit of a metaphorical stretch, our lifestyles.
With food activist Michael Pollan making the just-announced Time 100 and recent locavore obsessions, it's easy to forget that farm-fresh food has long been a trendy cause. The back-to-the-landers of the 1960s and '70s included many families eager to produce their own food and fuel, whether or not they had the knowledge or finances to do so. "Milk" is a product of this era, set on a milk farm whose proprietors are struggling to stay afloat during the Reagan administration. Meg (Jordan Baker) has returned from her post-college days in the city to run her family's farm with her son, Matt (Noah Robbins), and husband, Ben (Jon Krupp), a journalist who fell in love with the land—or the idea of it.
Meg's world is neatly divided into three spaces, thanks to the symbolic set by Susan Zeeman Rogers: the house, the farm, and the beguiling but frightening "outside" that lies beyond the fence. When a businessman (Peter Bradbury) offers to support the farm while he and his daughter (Anna Kull) soak up some down-home "values," these divisions are shattered—literally, in the case of Rogers' set, which is deconstructed before our eyes as the play unfolds.
Meg's transformation is almost as obvious: Baker's initial unlikable brittleness softens throughout the play as Meg rediscovers her wild side, beyond the confines of the farm. But DeVoti also provides Meg with an unnecessary "spirit guide": Auroch, the last wild cow. An all-too-obvious parallel for Meg, Auroch (Carolyn Baeumler) dumbs down Meg's escape from domesticity while adding a jarring fantastical element that makes "Milk" more of a fairy tale and less of the modern parable it wants to be.
Although Meg's journey is the most central to the show, other transformations in "Milk" are far more captivating and nuanced. As the businessman turned farmhand, Bradbury effortlessly achieves a seemingly impossible mixture of unctuous charm and sympathetic frailty. Meanwhile, Robbins and Kull, as children of the '80s, are delightful as they adeptly navigate the identity crises of adolescence, well ahead of the adults around them. Rather than rely on spirit guides and metaphors, they discover themselves through the world around them and each other.
The ease with which DeVoti weaves together these relationships and maturations is absent in her affected portrayal of Meg. Her characters, like milk, tend to spoil with age.
Presented by New Georges and New Feet Productions at Here Arts Center, 145 Sixth Ave., NYC. April 29–May 22. Mon.–Sat., 8:30 p.m. (Mon.–Wed., May 3, 4, and 5, performance is at 7 p.m.) (212) 352-3101, (866) 811-4111, www.theatermania.com, or www.here.org.