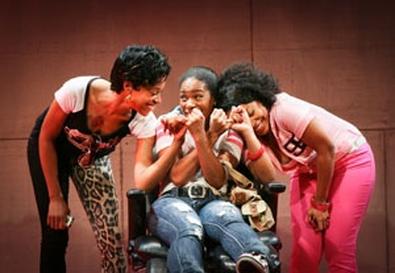 "Babies ain't like real work." So says Annie, the naive and desperate young heroine of "Milk Like Sugar," Kirsten Greenidge's riveting new play about a trio of African-American teenagers who believe pregnancy will solve their identity crises. In a joint production by Playwrights Horizons and Women's Project Theater, based on the world premiere at La Jolla Playhouse, Greenidge paints a detailed portrait of young women with limited options and limitless consumer ambitions.

The play opens with Annie celebrating her 16th birthday at a tattoo parlor with her best friends Talisha and Margie. As Annie leafs through catalogues looking for an appropriate work of skin art, the girls gossip about potential boyfriends, judging them by which one has the most expensive and up-to-date cell phone. Margie reveals that she is with child, and the other two decide to join her, so they can all have a shower together and collect designer-label baby gear. "I want that Coach diaper bag," cries Margie with materialistic glee. "Burberry is just as good," counters Annie. They haven't thought much beyond that shower.

As Annie seeks to fulfill her promise to her pals, she discovers that being a single mother might be a lot more "real work" than she imagined. Through encounters with Antwoine, a compassionate and creative tattoo artist; Malik, her on-again, off-again boyfriend; her mother, Myrna, who works as a cleaning woman but wants to be a writer; and Keera, an unpopular fellow student who claims to have the perfect father and home life, Annie sees that her pregnancy pact will condemn her to a bleak future.

Greenidge's message is not a new one: Try to better yourself, get into a good school, and don't give up. We've seen it in countless films and TV shows, most recently and effectively in the Oscar-winning "Precious." But this is much more than the theatrical equivalent of an "ABC Afterschool Special." Employing spiky dialogue and vivid characters, the playwright creates a heartbreakingly real snapshot of a youth culture yearning for identity through brand names, indiscriminate sex, and fast food. The title refers to a cheap and sweet powdered milk substitute common in the play's households, which serves as a metaphor for the poor emotional diet the characters receive. Greenidge's only slip is having Annie express this point in an on-the-nose summing-up monologue at the play's conclusion.

Rebecca Taichman's staging physicalizes the complex relationships of Annie and her circle, even down to the scene changes, when the actors move Mimi Lien's well-chosen set pieces while remaining in character as Andre Pluess' harsh sound design beats out an insistent rhythm. Toni-Leslie James' costumes capture attitudes, while Justin Townsend's lighting creates a stark environment.

Angela Lewis shines as the confused Annie. She shows that the girl wants something desperately but doesn't know what it is. In one moving scene with Tonya Pinkins' tough-as-nails Myrna, Lewis sputters and stutters in an attempt to express Annie's longing for a direction or goal in her life. Seldom have I seen an actor so eloquently play an inarticulate character. Cherise Boothe and Nikiya Mathis slowly reveal the vulnerability beneath the tough exteriors of Talisha and Margie. Adrienne C. Moore has several heart-stopping moments as the awkward Keera, and LeRoy McClain and J. Mallory-McCree artfully display the sensitivity of Antwoine and Malik.

Presented by Playwrights Horizons, Women's Project Theater, and La Jolla Playhouse at Playwrights Horizons' Peter Jay Sharp Theater, 416 W. 42nd St., NYC. Nov. 1–27. Tue.–Sat., 7:30 p.m.; Sun., 7 p.m.; Sat. and Sun., 2 p.m. (Additional performance Wed., Nov. 9, 2 p.m.; no evening performance Sun., Nov. 13.) (212) 279-4200 or www.ticketcentral.com. Casting by Alaine Alldaffer and Telsey + Company.