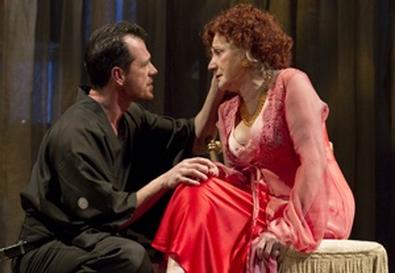 Tennessee Williams' 1962 play "The Milk Train Doesn't Stop Here Anymore," an unruly, extravagant, almost surreal meditation on mortality, failed on Broadway in two different productions a year apart, bombed again in 1968 on screen under the title "Boom!," and is regarded as the turning point in Williams' career: He never again had a commercial success. I've always considered it a better play than its reputation, but I never thought it could work as well as it does in Michael Wilson's mesmerizing production for Roundabout Theatre Company. If any production can undo the decades of unwarranted critical scorn heaped on "Milk Train," this is the one.
Filthy rich four-time widow Flora "Sissy" Goforth, dying of a cancer she refuses to acknowledge, sits in isolated splendor one summer in a mountaintop villa on Italy's Divina Costiera. Between shots of morphine and pills downed with brandy, she's dictating her memoirs to the lovely but put-upon Blackie, her recently widowed young secretary. When Christopher Flanders, former poet, aging pretty boy, and professional houseguest, climbs her mountain looking for an invitation to stay, Goforth is dubious. Still, she says, she could use a lover. But when her friend, the poisonous Marchese Ridgeway-Condotti, known to intimates as the Witch of Capri, tells her that Chris is known as the Angel of Death, because he "has the bad habit of coming to call on a lady just a step or two ahead of the undertaker," she's rattled and begins to re-evaluate. It's too late, of course, and the enigmatic drifter ends up performing his trademark service.
Written in the aftermath of the death of Frank Merlo, Williams' life partner of 14 years, "Milk Train" is shot through with pain and fury, with the gorgonesque Goforth embodying many of the playwright's own paranoias and excesses. It's a star part if ever there was one and has been played by such luminaries as Tallulah Bankhead, Elizabeth Taylor, and Elizabeth Ashley. Olympia Dukakis may lack the glamour of those women, but she more than compensates by emphasizing Goforth's spiky intelligence and cutting earth-mother humor. In Dukakis' hands, Goforth's reminiscences become gluttonous devourings of life, making her denials of incipient death even more poignant. This Goforth is monstrous but not a monster, in the end shatteringly vulnerable. It's a spellbinding performance.
As Chris, Darren Pettie is properly fraying at the edges, an intriguing mix of calculation, sympathy, arrogance, and sexual magnetism. Maggie Lacey smartly goes easy on Blackie's emotional repression, giving her fire and a spirit capable of withstanding Goforth's oxygen-stealing domination. Edward Hibbert's Witch of Capri is a darkly comic highlight, whether trading icy barbs with Goforth, attempting to seduce Chris, or giddily taking his pleasure with Goforth's servant. Curtis Billings and Elisa Bocanegra are piquant as the abused household help, whose main concern is who will pay them for the week if Goforth dies before signing their checks.
Wilson has culled this version of the script from several drafts (Williams was still rewriting the play as late as 1980). He wisely downplays the religious symbolism, ratchets up the sexual component, and eliminates most of Goforth's shrill rants against "freeloaders," as well as the melodramatic character of her sadistic bodyguard. A crack design team—Jeff Cowie (sets), David C. Woolard (costumes), Rui Rita (lights), and John Gromada (original music and sound)—delivers immeasurably enhancing atmospheric work, from the hypnotic sounds of crashing waves to the gray translucent curtains that crisscross the wide-open stage like flying shrouds as great beams burst vigorously forth above.
Chris gently guides Goforth to acceptance of the moment when we "stop existing." Wilson and his wonderful company have done the reverse, shepherding "Milk Train" into existence as a play worthy of its author's justly celebrated name.
Presented by Roundabout Theatre Company at the Laura Pels Theatre, 111 W. 46th St., NYC. Jan. 30–April 10. Tue.–Sat., 7:30 p.m.; Wed., Sat., and Sun., 2 p.m. (212) 719-1300 or www.roundabouttheatre.org. Casting by Jim Carnahan and Stephen Kopel.