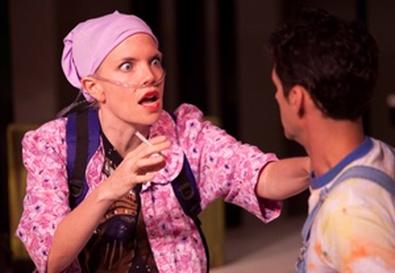 The odd title of Joshua Conkel's absurdist seriocomedy derives from a raunchy nursery rhyme of uncertain origin. The allusion seems suitable for the playwright's peculiar blend of zany humor, campy musical interludes, and subversive satire. A fascinatingly incisive view of the fears and curiosities of adolescent boys struggling to understand their gay impulses provides the central theme, augmented with sardonic commentary on cruelty to animals, aging and mortality, and other sobering topics.
Director Matthew Elkins' West Coast premiere staging is graced with five versatile actors, who expertly tap into the script's boisterous fun, while deftly illuminating the sense of melancholy and social outrage right beneath the surface. Emory (Andy Hirsch) is an effeminate 11-year-old residing on a suburban chicken farm with his controlling, cancer-ridden grandmother Nanna (Hollace Starr). His biggest joys are playing with his doll and dreaming of making it big on the local talent-search show. His loneliness is tempered by his close friendship with a talking chicken, Linda (uproariously and touchingly played by Sharron Shayne) and his complex yet satisfying bond with the closeted neighboring youth Elliot (Justin Okin), who is prone to bullying and pyromania. This duo's husband-and-wife role-playing games are simultaneously hilarious, startling, and heart-rending.
In a performance brimming with wit, Hirsch brilliantly captures Emory's childhood insecurities as well as the boy's resilient capacity for mature wisdom. Likewise, Okin does a superb job of dissipating our initial sense of contemptibility for a bratty kid, allowing us to see the confused and loving spirit struggling to emerge. Starr creates the gnarly character of granny dearest in appropriately broad strokes, embellished with rueful undertones. Tracie Lockwood is hilarious as a one-woman Greek chorus, commenting on the bizarre goings-on from the sidelines and taking a series of choice small roles, including a vicious spider and the speaking voice that translates Linda's heartfelt clucking noises into English.
Formerly a late-night offering in Rogue Machine's Off the Clock series, this splendid production has graduated to a mainstage engagement, where it can be more widely embraced by audiences appreciative of invigoratingly edgy fare.

Presented by Rogue Machine at Theatre/Theater, 5041 Pico Blvd., L.A.
Aug. 20–Oct. 10. Variable schedule. (323) 930-0747. www.roguemachinetheatre.com.