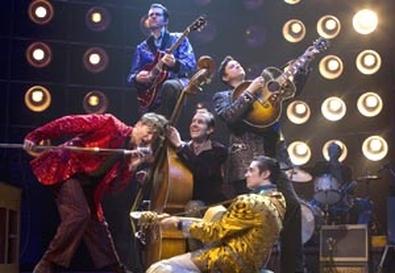 When the curtain call is the most exciting part of a show, it's definitely a problem. Such is the case with "Million Dollar Quartet," the latest attempt to turn pop nostalgia into Broadway box-office gold. Not unlike "Looped," the now-closed comedy derived from a Tallulah Bankhead story, this jukebox musical attempts to spin a showbiz anecdote about larger-than-life figures at a recording session into a full-blown theatrical experience. On a December Tuesday in 1956, Johnny Cash, Jerry Lee Lewis, Elvis Presley, Carl Perkins, and Elvis Presley came together at Sun Records in Memphis, Tenn., where their careers had been launched.
The idea of using this impromptu meeting as a setting for a musical play is potentially explosive. Presley was at the peak of his popularity, Cash was moving into the mainstream, Lewis was about to hit the big time, and Perkins was frustrated over his lack of success and jealous that Presley had become a cultural phenomenon thanks to a song Perkins wrote, a little number called "Blue Suede Shoes." In addition, Sun Records' owner, Sam Phillips, must decide whether to sell his small-scale operation to megacorporation RCA. There's plenty of material for juicy conflict, and an inventive book writer could sneak in commentary on how the radical sound of rock 'n' roll reflected the changes taking place in the broader American society. Let's not forget the fact that many of the early rock stars were greatly influenced by African-American artists, who were marginalized by a racist culture, a theme emphasized in the musical "Memphis."
But authors Colin Escott and Floyd Mutrux only lightly touch on these ideas and fail to generate any dramatic heat to go with the musical electricity provided by the renditions of the foursome's monster hits. Their script is mostly filler and lead-ins ("Why don't you play that song I like so much" is a typical intro). Despite Eric Schaeffer's proficient direction, nothing really happens until the final 20 minutes, when Cash and Perkins inform Phillips they are moving on to bigger record deals and Phillips makes his choice about the future of his studio. Once those pesky plot points are dealt with, the walls of Derek McLane's set fly away, all vestiges of story vanish, and we get that fabulous curtain call, with each of the quartet rocking the house down.
The biggest charge is provided by Levi Kreis, who not only sets off seismographic seizures as he re-creates Lewis' combination of rockabilly and boogie-woogie vocalizing and piano playing on "Great Balls of Fire" and "Whole Lotta Shakin' Goin' On" but also gives the book scenes a much-needed jolt. He supplies the only lively nonmusical moments, through Lewis' uninhibited country-fried humor. Robert Britton Lyons creates a convincing Perkins and plays a mean electric guitar. Eddie Clendening and Lance Guest have the burden of portraying Presley and Cash, respectively, figures so iconic that it's nearly impossible to get beyond impersonation. Both performers have the voices and mannerisms down pat but fail to dig beneath the familiar surfaces. By the way, the cast members play their own instruments with zestful verve, as do bassist Corey Kaiser and drummer Larry Lelli, who also play roles but are not listed in the program with the cast.
Elizabeth Stanley does the best she can with the extraneous role of Dyanne, Presley's girl of the moment, solidly putting across two numbers. Hunter Foster handles the narrator role of Sam Philips with professionalism and manages to insert a slice of character development in between the jam sessions.
Judging by the show's success in Chicago, where it has been playing for over a year, the audience for "Million Dollar Quartet" is probably more interested in hearing the hits of their youth than in experiencing a solid dramatic arc, so look for it to make at least the title sum from the Broadway and inevitable touring productions.
Presented by Relevant Theatricals, John Cossette Productions, American Pop Anthology, Broadway Across America, and James L. Nederlander at the Nederlander Theatre, 208 W. 41st St., NYC. Opened April 11 for an open run. Tue. and Sun., 7 p.m.; Thu.–Sat., 8 p.m.; Wed. and Sat., 2 p.m.; Sun., 3 p.m. (212) 307-4100 or www.ticketmaster.com. Casting by Telsey + Company.