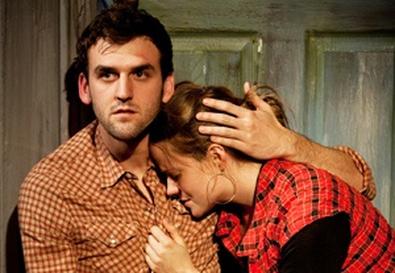 Playwright Bekah Brunstetter telegraphs the trajectory of "Mine" in the first scene: Annie, a despairing poet-turned-barista, is dating high-powered attorney Doug but has feelings for hipster co-worker and aspiring musician Sam. Annie (Amelia McClain) begins the scene by casually inquiring if Sam would have the self-confidence to "date a midget." It becomes painfully obvious that Annie's own self-consciousness is paralyzing her. But McClain attempts to portray a woman lying to herself by bouncing between effervescence and despair too quickly; one grows tired just watching.
Each of the three characters is a roughly sketched parody in the same fashion. Doug (Zach Shaffer) is an insufferable "bro" whose love for Annie isn't enough to compensate for his uncomfortable need to possess her. Sam (Lucas Kavner) is the ironically pretentious hipster with a seemingly unlimited supply of sarcastic quips and plaid shirts. It's a standoffish stereotype we know all too well, and Kavner's performance does little to explore beneath the surface. His monologue before playing a set in a bar is the first time he becomes real, perhaps because it's the first moment his aloofness is understandable, even endearing.
Doug and Sam often wander into Annie's scenes, sometimes as explicit parts of her fantasies but often just to remind us repeatedly of their presence in her mind. Director Wes Grantom's unsubtle choice further emphasizes the competitive love interests, the obvious elephant in the room.
The glaring flaw in "Mine" is that it's almost entirely static. The three players emerge at the end just as they were in that first scene, perhaps a little worse for wear. The only thing to emerge over the course of the play is a message about the relationships between art, creation, and self-assuredness. It's interesting, then, that the most redeeming aspect of the production is Sam's songs, written by Joe Pug. The mournful folk tunes are a very bright spot in an insecure and immature play, proving that it's possible to create even in the most difficult of circumstances.

Presented by Slant Theatre Project at the Sanford Meisner Theater, 164 11th Ave., NYC Nov. 13–22. Tue.–Fri., 7:30 p.m.; Sat., 2:30 and 7:30 p.m.; Sun., 3 p.m. (212) 352-3101, (866) 811-4111, or www.theatermania.com.