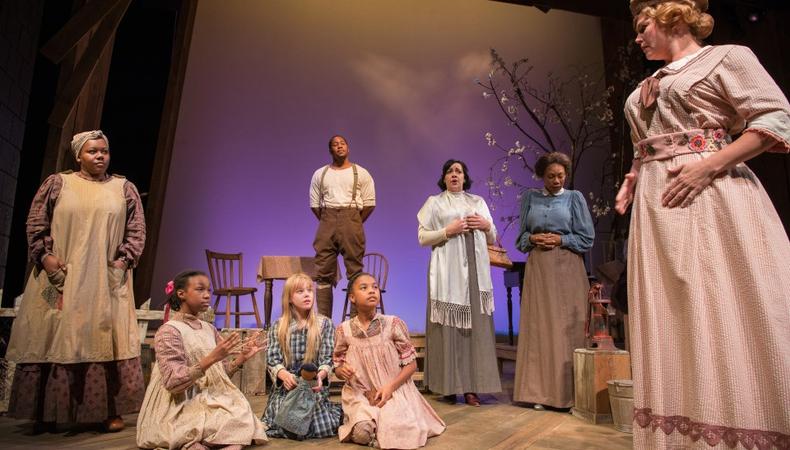 The mission of the Penumbra Theatre Company is hinted at in its name—a penumbra is partial shadow or partial illumination. The award-winning St. Paul, Minnesota–based theater has since 1976 been shining a light on the stories that often don't make it onto the American stage.
These are the stories that are often left out of conversations we have as Americans, says Penumbra Theatre Artistic Director Sarah Bellamy. It's her mission to change that: "The art we create at Penumbra teaches us how to be better in our lives...and inspires us to envision a better and broader humanity."
Now the largest and one of the oldest African-American theater companies in the country, Penumbra invites audiences to "bravely confront our shared history—the good, the bad, and the ugly," which can be difficult during divisive political times. But, Bellamy tells Backstage, seeing art performed live is one way to relate to and participate in our democracy.
Another way is to do the performing. Penumbra's civic engagement program "My America" calls on Minnesotans to send in stories, poems, plays, personal essays, and other pieces of creative writing to reflect on their current experience in the country. For its 2018 iteration almost 100 submissions came in from all over the state, with 12 contributors selected to present at a live show March 12. Finalists, who worked with artist facilitators Erin Sharkey, David Melendez, David Mura, Sarah Myers, and Lisa Marie Brimmer to develop their narratives, ranged in age from 14- to 74-years-old, from diverse backgrounds (some material was even translated into Spanish, Hmong, and Somali), including several men and women in Minnesota's correctional facilities.
Bringing these stories together in today's political climate, Bellamy says, can prove both inspiring and motivational. Penumbra's artists get to "define the story of our country" and tell the many stories that make it beautiful. "Artists are sometimes put to the side when we talk about the issues. But I wanted to use the art to help solve the issues," she says.
"My America" spawned out of another Penumbra initiative called "Let's Talk," which creates a forum for discussions about equity, social justice, and the arts. It's all part of an earnest mission to fuse art and social change through educational programming. Such conversations tackle the "tough stuff," says Bellamy, but they're conducted with compassion and respect. What's important for Penumbra is providing participants with actions to take once they leave the theater.
Those forums began soon after the #BlackLivesMatter protests launched in Ferguson, Missouri back in 2014. "People wanted to talk," Bellamy remembers. Penumbra's theater has about 200 seats. For the initial event, about 400 people showed up; seating overflowed into the lobby.
Penumbra's theater season often includes plays that confront issues facing our country head-on, including race and racism. (Harrison David Rivers' poetical and political "This Bitter Earth" runs April 24–May 20.) Some pieces really stay with you, Bellamy says. "They crack open the heart of the issue and allow people to sit with the difficulty of it. And then people come out it feeling a burning sense of justice."
Bellamy says this was truly resonant with their 2014 production of the play "The Ballad Of Emmett Till," which recounts the story of the titular 14-year-old African American who was lynched in Mississippi in 1955. Works like this hold the candle of truth to history, Bellamy explains. Perhaps such a piece is not ultimately for those who only want theater to be an escape. But it lays bare, with painful clarity, how far we've come as a country—and how far we still have to go.
For Minnesotans who want to get involved, there are online resources on Penumbra's site, including reading lists and information about their annual civic engagement campaigns. Actors interested in lending their talents to the cause should know the company hosts a general audition call during their season for those both based in St. Paul and from out of town. Performers are welcome to send in video auditions if they can't be there in person.
READ: 15 Tips for a Successful Self-Taped Audition
But Bellamy also recommends coming to see a show: when it comes to inspiring empathy and action, nothing beats live performance. This calling of hers, to create art for the express purpose of social change, is in her blood. Bellamy's father, Lou, founded Penumbra Theatre back in 1976. Although he said the work would be challenging and that it often broke his heart, Bellamy knew it was destined to be hers too. As an artist she believes you have to "be open to how your career might unfold. Your opportunity to make the biggest impact might not come in the form that you imagined, so be open to possibility."
Check out Backstage's theater audition listings!