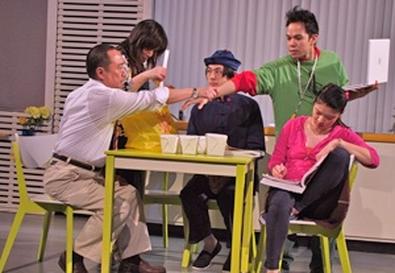 Maintaining truthfulness and avoiding stereotypes are the major challenges when playing racial, ethnic, and sexual minorities.
Consider the daunting task that Tamer Aziz faces in tackling a character who is gay, Iranian, and Muslim in Jay Paul Deratany's fact-based play "Haram Iran" (now at the Celebration Theatre in Hollywood). Or the issues that black actors deal with in enacting a brutal racist episode within the context of a minstrel show in John Kander and Fred Ebb's musical "The Scottsboro Boys" (currently at New York's Vineyard Theatre). Justin Huen also has his work cut out for him playing Oedipus in Luis Alfaro's play "Oedipus el Rey," a retelling of Sophocles' tragedy set in a Los Angeles barrio (playing the Theatre @ Boston Court in Pasadena, Calif.). Jennifer Lim grapples with a fully assimilated and not very sensitive Asian American in Lauren Yee's satire "Ching Chong Chinaman" (now at New York's Pan Asian Repertory Theatre). And Thomas Jay Ryan has the responsibility of playing seminal gay activist Harry Hay, founder of the Mattachine Society, in Jon Marans' "The Temperamentals" (at New World Stages in New York).
Even theater artist Bette Bourne, who is playing himself in "A Life in Three Acts" (at Brooklyn, N.Y.'s St. Ann's Warehouse), arguably faces challenges in his presentation. Bourne is an androgynous figure, sporting a sparkling tunic, earrings, lipstick, and a feminine hairstyle. His style is matter-of-fact, and his persona is who he is, he insists. Yet he admits that the line between performance and reality sometimes gets blurred. "Most of the time," he says, "I'm acting a performance, but there are one or two times when an actual memory becomes overwhelming and I'm genuinely emotional. It's better for me to contrive that as an actor."
These are just a few of the current plays focusing on sexual, racial, or ethnic minorities. Others in New York include "Race," "The Pride," "Yank!," and "Next Fall," as well as a revival of "La Cage aux Folles."
Ambivalence
Some of the actors Back Stage spoke with have mixed emotions about their roles. Huen says he is always cautious about playing ethnic parts that have stereotypical elements. Still, he was convinced that the humanity of the Latino characters in "Oedipus el Rey" would emerge, despite the elements of prison life, gangs, and violence in the play.
Aziz was initially concerned that Islam would be shown in a negative light, but ultimately he felt that "Hiram Iran" "revealed the beauty in the Koran," in contrast to the extremism of some of the religion's more fundamentalist practitioners. The play tells the true story of two Iranian teenagers tried, convicted, and executed for being gay. Aziz mostly worried about the actor who would play his lover. "I hoped the chemistry would be right," he says, "and it is." He had no concerns about being typecast as either an Arab or a gay man. Indeed, he says, if the audience believes that's who he is, then he has done his job as an actor.
Similarly, Ryan is not concerned he'll be typecast as a gay man, saying it's no longer an issue at his age: "I'm 47 years old. I welcomed the chance to play a gay character, since I never did before. What fascinates me about Harry Hay is that he walked headlong into gender issues and sexual identity and the androgyny of the homosexual male, questions that are still touchy. My only reservation was that we'd be in such a rush to show him as a radical, the play wouldn't show his evolution or explore the legitimacy of his problem. Most of the play takes place when he was a married man."
Lim says she had no hesitation about her character in "Ching Chong Chinaman," or even the heavy-hitting—some might say offensive—title. She speculates that young Asian Americans are self-accepting and less sensitive to racially tinged barbs. The fact that she is not American-born—she hails from Hong Kong—may also add another layer of distance, she adds.
"There's something liberating about embracing how funny stereotypes can be," Lim says. "Stereotypes are great material for theater and fun to act. They're funny because they're generalized and simplified. They're based on prior subjective assumptions, not on any objective truths. When it's written and performed well, it's powerful, and audiences find it funny and at the same time know it sounds so wrong. So they ask, 'Why am I laughing and what are my prior assumptions?' " Lim does not think the play feeds into Asian-American stereotypes; she sees it instead as a lighthearted commentary on all hyphenated Americans who are so totally assimilated they've become rootless, perhaps even soulless.
Colman Domingo asserts that he had no reservations about doing "The Scottsboro Boys," which recounts the true story of several young African-American men falsely convicted of raping two white women in 1930s Alabama, despite the musical's minstrel-show elements. Indeed, the creative team—Tony Award winner Susan Stroman is director and choreographer—and the show's extraordinary theatrical conceit were major draws for him, Domingo says. He found setting the story within a minstrel-show framework striking and original.
"The form allows us to find the humor so we can present—and people will hear—the horrific story," says castmate Forrest McClendon. "I also felt there was something so amazing here to explore as an actor: to tell a story that was so horrific and at the same time give myself more to play than I've ever gotten to play in my life."
The Pitfalls and Challenges
There's no shortage of acting challenges in "The Scottsboro Boys," particularly playing with many levels of reality, says Domingo. "It's a hybrid: a bit of Charles Ludlam, Nicky Silver, August Wilson, and Sam Shepard."
"We move from high caricature to realism," McClendon adds. "The trick is not to get stuck in either extreme and always maintain that core of truthfulness, no matter how heightened the theatricality." Besides playing a series of stock minstrel characters, each actor also portrays historical figures, including Alabama's attorney general (Domingo) and, most notably, New York lawyer Samuel Leibowitz (McClendon), who in fact saved the lives of the Scottsboro Boys and ultimately gained the release of several of them. Yet he is painted as a Jewish caricature.
"This is really delicate territory," says McClendon. "He was a good guy—he saved our lives—but at the same time he was an outsider. He is seen through a minstrel lens. It's a kind of triple consciousness." His performance, he says, involves a process of layering the more grotesque elements onto a realistic portrait of an attorney who was known for his meticulous legal research as well as his showmanship. "He had a beautiful baritone voice that he used to great effect," McClendon notes.
Domingo faces somewhat different challenges playing bigoted white Southerners, and though they too are seen in a stereotypical context, "as an actor I have to think about what the characters need, want, and fear," he says. "What do they feel they gain by mistreating others? They've just come out of the Great Depression, and they feel they are less than Northerners. They've lost their power in the world. They're trying to hold on to a semblance of power. I keep examining that."
A central challenge that Domingo faces is making distinct each of the characters he plays. He works from the outside in, he says, focusing on each character's physicality and especially his vocal quality. For example, "when I play the white sheriff, I think about an uneducated man in the South whose voice would slice through air. I hear a resonant twang. I hear the sound that would make a black man feel he has no power. When I play the prosecuting attorney, I hear Strom Thurmond with his sweet and grandfatherly voice, yet he is spewing hate. And when I play the sadistic guard, I hear a voice that puts fear in the boys every time he speaks. He is so vicious and mean and a little on the sick side—and that all has to resonate in his voice."
Lim says the potential pitfall in tackling a character conceived in a satiric light is veering into two-dimensionality, especially since "Ching Chong Chinaman" is at its core a sad story about a young Asian-American woman "who has no idea of what it means to be Asian. She sees herself as an American girl trying to get into Princeton and is so desperate to find something different about herself"—as a selling point for admission—"she thinks if she's part Mexican, that might do it. Her emotions are so extreme. As an actor, it's a workout."
Aziz says playing a gay Iranian teenager is completely out of his comfort zone, but he believes that if he focuses on his character's feelings for his lover, it will give him a direction on stage and at the same time show the audience that love conquers all, as opposed to giving them an excuse to simply feel disdain and contempt for Islam. Celebration Theatre is dedicated to producing work that explores the gay, lesbian, bisexual, and transgender experience.
Ryan's major challenge is that he is playing an important gay activist who nonetheless has his faults. "You want to honor him, but at the same time you don't want to just idolize him," he says. "You want to embrace his flaws and contradictions. Hay was a masculine man and later embraced the feminine aspects of himself. The challenge is not to do a cliché."
Like all actors, Ryan says, some of his performances are better than others, but not being up to snuff is no excuse given the significance this play has for its audience. "There are moments when I'm talking directly to the audience and I can see men—couples in their 70s—who are holding hands, and some of them are crying," he says. "Perhaps this is the first time they've seen a representation of their experience on stage. It matters, and it jolts you into the moment. You look at these people and say, 'Who am I to have an off moment?' " Ryan feels that the Zeitgeist is right for the story—which is not even known by many gay theatergoers—and for the kind of multilevel characters in the play.
Its Timely Significance
Bourne appreciates the broad range of gay characters now on stage but is not convinced the life of a gay actor has improved all that much. Far from it. "I have noticed it's ennobling for a straight actor to play a queer, but not ennobling for a queer to play a straight person," he says. "A great Hamlet—and I'm not going to say who the actor was—came out, and now he no longer wants to be associated with his sexuality. So in a sense, we're back in the closet. You can't come out in Hollywood unless you're an English knight who makes millions. Ian McKellen came out, and that was a risk. But he has had a distinguished career and made millions, and that's lovely. Other actors have crashed to the floor."
By contrast, most of the actors interviewed who belong to ethnic minorities are optimistic about their futures. They also point out how diverse ethnic theater is today. Tisa Chang, who founded the Pan Asian Repertory Theatre in 1977, says, "Asian-American theater has exploded in the last 10 years, with energies and perspectives from all over the nation, from solo artists to veteran ensembles, from neophytes to established professionals, who explore issues previously nonexistent or kept mummified, using a contemporary vocabulary to stimulate, challenge, and provoke."
Huen suggests that morphing "Oedipus" into "Oedipus el Rey" is not only a way to explore the experience of the Latino community in Los Angeles; it's also a chance for theatergoers to see the Greek play in a new light, precisely because it is being retold. "Audiences are paying attention and recognizing how universal that story is," he says.
Domingo suggests that "The Scottsboro Boys" is part of a larger musical-theater trend that challenges the norm—from "Passing Strange" to "Fela!" to "Next to Normal." But there's a shift beyond theater, he says. "This is the right time for 'The Scottsboro Boys.' People think we're in a post-racial world. We have a black president. There is license for this material, as well as 'Precious' and 'Passing Strange' and the movies of Tyler Perry. Our experiences are not limited, and the conversation must go on."
McClendon adds that "The Scottsboro Boys" represents "the fierce urgency of now." He's also reflecting the other actors' views about the timeliness of their productions.