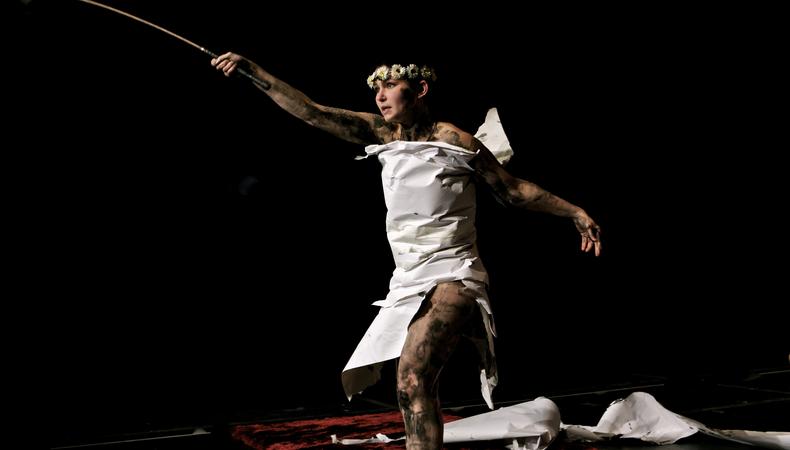 An unnamed Belarusian man walks onstage and shows us the many scars covering his body. Some are the result of accidents, but others derive, he says, from beatings by the Belarusian KGB. Then he adds, "Scars are a man's decoration. Girls think scars are sexy. By that measure, Minsk is a damn sexy city."
With those words Belarus Free Theatre takes us on a harrowing theatrical tour of Minsk, a city scarred by the Stalinist regime of President Alexander Lukashenko. Free speech is forbidden, and normal human relationships, like sex, warp under the weight of governmental repression. Performed in Russian with English supertitles projected on a screen, the brisk 85-minute piece paints a damning portrait of a crippled culture while simultaneously illustrating the spirit of freedom that animates its creators and performers.
In its native country, Belarus Free Theatre resorts to guerilla performances in private houses and random public spaces in order to avoid arrest. However, the company has been seen and lauded in many places outside Belarus, including an appearance in the Public Theater's 2011 Under the Radar festival, when the troupe's acclaimed performance of "Being Harold Pinter" won it an Obie Award. This year the group has returned to Under the Radar with a political work that pulses with anger, love, and thrilling theatricality. New York is a damn lucky city to have it.
"Minsk, 2011: A Reply to Kathy Acker" is a collage of scenes detailing aspects of life in 2011 Minsk. Its starting point is a peaceful demonstration, viciously broken up by police, against the falsification of a recent presidential election, depicted in a video of the actual event. The nine actors go on to explore such things as state regulation of erotic dancing and the persecution of Minsk's underground LGBT community. Especially potent is a scene in which a nude woman is painted black and cocooned in paper, from which she erupts brandishing a whip and resembling a mad dominatrix. It is a sensational dramatization of how a degraded society corrupts innocence.
Vladimir Shcherban directs with fluidity and simplicity, creating vivid theatrical images at every turn. The various texts have been written by the superb cast: Pavel Radak-Haradnitski, Yana Rusakevich, Aleh Sidorchyk, Dzianis Tarasenka, Maryna Yurevich, Yuliya Shauchuk, Siarhei Kvachonak, Viktoryia Biran, and Kiryl Kanstantsinau. Shcherban also contributed to the writing, along with Nikita Volodzko, Ryma Ushkevich, Natalia Kaliada, and Nicolai Khalezin. The citation of Kathy Acker is meant to acknowledge Acker's writings about misogyny, domination, and sexual repression.
The most haunting section of the show occurs at its conclusion, when the actors talk directly to the audience of their mixed feelings concerning their homeland. Then they slowly lift a red carpet until it covers their faces. Functioning as both a final curtain and a poignant reminder of the long road Belarus Free Theatre is condemned to travel while Lukashenko is in power, the moment is stunning. It's only one among many in this electrifying, deeply moving piece.
Presented by and at the Public Theater as part of Under the Radar, 425 Lafayette St., NYC. Jan. 15–20. (212) 967-7555 or www.publictheater.org.
Critic's Score: A