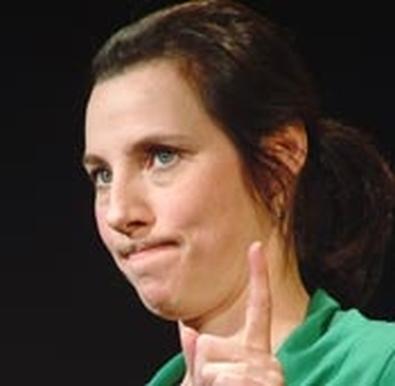 A main tenet, if not the central one, of autobiographical solo performance is the performer's direct connection to the material. Not all personal stories are worth dramatizing, of course, but presuming things are sufficiently engrossing, part of what maintains our interest is our awareness of the actor's intimacy with his or her words, feelings, and viewpoints.
Director Matt M. Morrow's revival of Lisa Kron's 2.5 Minute Ride consigns that convention to oblivion. This is the play's first New York mounting since 1999, when author-actor Kron earned an Obie for her work. Later she wrote and starred in another acclaimed autobiographical piece, Well, which featured a cast of six.
What Morrow has done is pick up the play and treat it as such — a play — not an exercise in dramaturgical memoir that would somehow seem counterproductive without Kron delivering the narrative. To play the character of Lisa, Morrow cast Nicole Golden, who, inasmuch as anyone can, makes 2.5 Minute Ride her own. She doesn't possess the sardonic smirk Kron uses to inveigle her audience's affection; Golden uses a mix of sincerity and coyness instead. Nor does Golden possess that slightly flat-footed, emotionally burdened strut that is one of Kron's more distinctive physical characteristics. Navigating her way through the play's three intertwining story lines, Golden moves gracefully and purposefully, confident of where she's going.
The play's first story concerns a trip Kron took with her aging father, a Holocaust survivor, to Auschwitz. The second recalls one of many annual excursions Kron's family has taken to a Sandusky, Ohio amusement park. The third concerns the run-up to the Brooklyn wedding of Kron's brother. Taken individually, each tale would be anecdote-laden and arguably forgettable; combined, they sum up what Kron implies with her title — that family can be a grating, precious luge that every now and then we must ride, often at top speed.
When Kron performed the piece, it was about how she gradually awakened to the peculiar burdens and gifts of her lineage. For Golden, there's less implicit self-discovery: The mother who dislikes wedding ceremonies and has refused to be photographed for 30 years isn't her real mother but another character she must conjure up in her mind and project for all to see. While there's much foreshadowing of Well as Lisa regales us with her mother's idiosyncrasies, 2.5 Minute Ride is fundamentally about the legacy of Kron's father. Golden performs it in such a way as to make the play about patrimony as a general concept too.
The three tales do not unfurl evenly — Kron's text spends a lengthy time on one aspect of a story before it abruptly turns a hairpin curve — yet Golden is always very present. Her transitions, especially as she bounced back and forth to an onstage slideshow (one showing no images), seemed a little bumpy at the performance I attended. But as that was the first preview, I suspect time — and the thrill of the ride — will eventually smooth things out.
Presented by Electric Pear Productions at Altered Stages, 212 W. 29th St., NYC. Jan. 19-Feb. 9. Mon., 7 p.m.; Wed.-Sat., 8 p.m. (212) 868-4444 or www.smarttix.com.