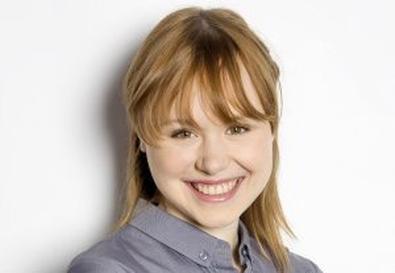 Alison Pill is aware that Annie Sullivan of "The Miracle Worker" is keenly identified with the iconic (and now late) Anne Bancroft. But that was no stumbling block for Pill. To begin with, she had never seen the film. And, now age 24, she was not even born when the play premiered on Broadway in 1959, starring Bancroft and Patty Duke in the role of Helen Keller. Indeed, Pill read the script by William Gibson and approached it as she would any brand-new project. Putting aside any added pressure she might feel in playing a role made famous by another actor, she says, there remains the daunting responsibility that comes with tackling a historical figure—all the more so when that figure is "an incredible woman who overcame extraordinary odds," asserts the very young-looking, yet confident and mature, Toronto-born actor in her Circle in the Square dressing room before a rehearsal.
Set mostly in and around Tuscumbia, Ala., in the 1880s, "The Miracle Worker" recounts the evolving relationship—and often violent struggle—between the totally blind and deaf child Helen Keller and her determined teacher Annie Sullivan, who practiced tough love before the term and practice was trendy, ultimately transforming Helen from feral creature to literate human being. In the current revival, helmed by Kate Whoriskey, Helen is played by Abigail Breslin, making her Broadway debut.
"I want to show Annie's passion, feistiness, and patience," says Pill. "But it's also important for Annie to change onstage, as all great characters must." Like Helen, Annie undergoes a metamorphosis and matures. She moves from being a stubborn and rigid taskmaster to a more open and generous adult, Pill says, adding that as the play evolves, Annie allows herself for the first time to respond to the Keller family's acts of kindness toward her. "Making that arc happens—showing how she grows up, realizing there are things more important than her pride and ego—that was challenging," says Pill. "But the most challenging part of this production is the physical. The fighting in the play is exhausting."
In preparation for the part, Pill read biographies of Keller and Sullivan, Sullivan's published diaries and letters, and books about turn-of-the-20th-century institutions for blind and deaf children. "Nowheresville," Pill dubs these so-called asylums. Sullivan died in 1936, and no film clips were available of her as a young woman when she was teaching Helen. Her posture, gait, and gestures had to be largely imagined. Vocally, however, Pill understood what a New Englander from Sullivan's time and class might sound like. "It was the proper Northern pursed-lipped American speech, not unlike Katharine Hepburn's style," says Pill. "The way I speak defines, distinguishes, and separates me from the Kellers' Southern drawl. I worked with dialect coach Deb Hecht and listened to Bette Davis in some of her later films and also Ruth Gordon."
Pill, last seen on Broadway in Theresa Rebeck's "Mauritius," has played an impressive array of characters. In "Mauritius," she was a tough-as-nails young woman in pursuit of a rare postage stamp. Off-Broadway in Neil LaBute's "Reasons to Be Pretty," Pill's onstage alter-ego was the explosive Steph, whose vitriolic rage boils over when she discovers that her boyfriend has described her appearance to his pal as "regular"; belying all that anger is the deepest and most profound insecurity. And, in David Harrower's "Blackbird," a two-hander co-starring Jeff Daniels, Pill took on the demanding role of the tormented victim of sexual abuse who, 15 years after the events, confronts her attacker, bringing to the surface the complexity of their love-hate relationship. Pill made her Broadway debut in "The Lieutenant of Inishmore," earning a Tony nomination for her performance as a 16-year-old girl who romanticizes terrorism. The actor also has more than 50 film and television credits, including stints on HBO's "In Treatment" and NBC's "The Book of Daniel." Big-screen credits include "Dan in Real Life," "Pieces of April," and "Milk." In the latter she took on another biographical figure, LGBT rights activist Anne Kronenberg, who was Harvey Milk's campaign manager.
Whether Pill is performing on stage or on screen, her method is to "learn my lines, learn my blocking, and along the way discover what I'm trying to do," she says. Her colleagues certainly like what she's doing. "Alison is an amazing and strong actress," 13-year-old Breslin notes. Whoriskey agrees, adding, "She brings resolve and life into the character Annie Sullivan. Alison approaches her work with an impressive level of conviction, and I have trouble imagining anyone else in this role. She wholly invests herself—heart, mind, and spirit—in a manner that I find commendable. She thinks fast and works hard and makes me do the same, which is at the core of a healthy director-actor collaboration. I'm not surprised Alison has connected so strongly with the role of Annie Sullivan, since they share so many characteristics. They are both bold, confident, freethinking, and forces with which to be reckoned."
Steady Work
Pill's career was launched when she was discovered at age 10 in her church choir. An audio-books insider heard Pill narrating and offered her a books-on-tape gig, which mushroomed into future assignments. Within short order she had an agent and was guest-starring on TV and in films. Still, Pill attended her regular school and, unlike many child actors, did not suffer a trauma moving into adulthood. She says that because she has such a "baby face," she continued working and the transition was seamless.
When she was 18 she moved to New York to continue her career. She knew she did not want to live in Los Angeles, having spent time on the West Coast during pilot season as a youngster. "I can't stand L.A.," Pill asserts. "I don't drive, I don't have a license, and I don't like the feel of the place. You can't bump into things. You can avoid people, garbage, smells, and life! You live in a bubble, and I find that totally uninspiring."
Though Pill never studied acting formally, she recalls a turning point when for the first time she appreciated the power of physicality on a stage. "It was when I saw Mary-Louise Parker in David Auburn's 'Proof,' " says Pill. "It was the way she took over the stage, and I realized physicality can change a person and the way you see them. Also, I saw how an actor can have command and comfort on a stage. I understood how different film and stage work really were. On stage, you have to use your body."
Looking back, Pill says she never even considered another career. "What else could I do?" she asks and then offers this advice to young actors who are toying with the idea of acting professionally: "If there is anything else you can do besides act, then do it. But if you can't live without acting, then you must act."
From the outset, Pill has worked steadily. She acknowledges she does fairly well at auditions, in part because she started so young and has had time to build up the necessary emotional stamina. "I've learned that auditioning is a different set of skills than acting," she says. "It's about personality and charisma and the ability to walk into a room and feel confident. You get that after years of doing it. Or you learn to fake it real well."
Pill is also fortunate to be able to choose her projects and is interested only in those that excite her intellectually and make her feel that if she tackled the role, she could learn something emotionally significant about herself. "In an ideal world, both the script and the character would be equally inspiring," she says. "But in the real world, the character I'm going to play is the most important thing for me."
Pill is not especially drawn to television in general or a series in particular. She labels herself "commitment phobic" and does not want to be signed to any one project for an extended period. But she also considers the limited role of the director on television. "A huge part of the reason I act is that I love working with directors," she says. "On TV you don't have a directorial voice. Instead you have producers and writers. I need a leader who helps me shape something. I don't think shaping a character is a solo job." By contrast, in film the director plays a major role, and she finds doing movies enjoyable. But regardless of medium, the director is a major factor in her decision to do a project. "A good director asks good questions," she says. "And it's less about them having the answers than making me question what I'm doing, or seeing what I'm doing in a new light."
Asked what project to date she is most proud of, she says it's "Blackbird," an emotionally draining experience each night, yet "Jeff and I did the work and lived up to what the play could be." For Pill, "The height of great acting is to be emotionally naked and still hold something back." She cites Cate Blanchett, Amy Ryan, and Sean Penn as such actors.
Though she's not thinking beyond Annie and Helen at the moment, Pill says down the road she might like to try her hand at Shakespeare, never having tackled a Shakespearean role before. "I'd love to do Juliet, and I'd better do it soon," she says. "It's every girl's dream, and I'm no different."
"The Miracle Worker" is playing at Circle in the Square, 235 W. 50th St., NYC. Tickets: (212) 239-6200.
Outtakes
- Earned Lucille Lortel, Outer Critics Circle, and Drama League nominations for her turn in "Blackbird"
- Won a Drama Desk Award for outstanding ensemble in "The Distance From Here"
- Will soon be seen in the feature "Scott Pilgrim vs. the World," and will appear in eight episodes of the TV program "The Pillars of the Earth"