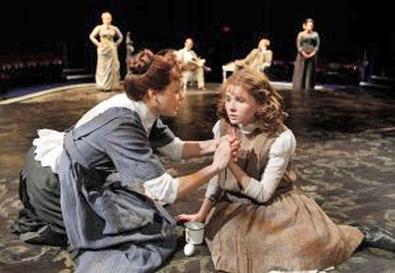 I've loved "The Miracle Worker" since I first encountered it in the late 1970s in a corking revival at the late, lamented Equity Library Theatre. I subsequently discovered the fine 1962 film version, featuring the indelible performances of 1959 Broadway originals Anne Bancroft and Patty Duke. But I've never been sure if William Gibson wrote a great play or merely an expert telling of a great story. After seeing the show's first Broadway revival, I'm still not sure, but there's one thing I'd bet good money on: You should never stage "The Miracle Worker" in the round.
The story of teacher Annie Sullivan unlocking the deaf-and-blind young Helen Keller from a world of darkness carries an elemental power that survives even director Kate Whoriskey's troubled staging. Fortunately, Whoriskey has mostly cast it well, particularly in choosing the immensely gifted Alison Pill to play Annie. Pill is more vulnerable than Bancroft, but that only puts Annie's eventual success in greater question. The diminutive actor, utterly convincing as a 20-year-old, makes Annie's raw youth the gauge by which we can measure her character's journey into adulthood. It's nearly as moving to watch Pill's Annie attain her maturity as it is when Helen finally understands that the letters Annie has been spelling into her hand have meaning.
Film star Abigail Breslin is the production's raison d'être. Though her Helen is not as compellingly feral as Duke's, she gives a thoughtful performance notable for its tantalizing hints at the restless intelligence locked away in Helen's mind. If the famous fold-your-napkin scene isn't as violent here as it should be, it's not Pill and Breslin's fault. The choice to have set designer Derek McLane's furniture raised and lowered by wires is not only visually cluttered and annoying; it also means the chairs are fixed and can't be knocked over. What's more, the actors have to be cognizant of an audience at close quarters on all sides, which keeps flying food and plates too much at bay. Ultimately, the energy dissipates without a proscenium to focus and contain it.
Further problems stem from Circle's long rectangle of a playing space. Whoriskey clears the stage for Act 1 scenes such as Annie's arrival at a train station, but her decision to have the actors greatly separated from each other results in a lot of yelling, which flattens out the performances of Matthew Modine and Jennifer Morrison as Helen's parents. In Act 2, after the Kellers have come to admire Annie's progress, scenes among them are staged with more intimacy, as if Whoriskey meant the distance to reflect the distance among the characters. Modine and Morrison both benefit, though neither Modine nor Tobias Segal, as James, Capt. Keller's grown son from a previous marriage, can quite make Gibson's somewhat contrived father-son clashes convincing. Elizabeth Franz is fine in the underwritten role of Helen's Aunt Ev, and young Lance Chantiles-Wertz makes a strong impression in the brief role of Annie's deceased younger brother, seen in flashbacks.
During the famously shattering climax at the water pump, I found myself with a fine view of the back of Breslin's head. If there is ever a time when every audience member should have an unimpeded view of Helen's face, this is it. Instead, I watched the face of a young girl in the audience opposite me. Eyes wide, absolutely riveted, her surprise was manifest as it dawned on her what was occurring on stage. She even mouthed something to herself. Clearly, Breslin delivered. I only wish I could have seen it.
Presented by David Richenthal, Eric Falkenstein, Randall L. Wreghitt, Barbara and Buddy Freitag/Dan Frishwasser, Joe and Kathy Grano, Mallory Factor, Cheryl Lachowicz, Martha Falkenberg, Bruce J. Carusi and Susan Altamore Carusi, David and Sheila Lehrer, and Lynn Shaw, in association with Connie Bartlow Kristan and Jamie deRoy/Remmel T. Dickinson at the Circle in the Square Theatre, 235 W. 50th St., NYC. Opened March 3 for an open run. Tue.–Thu., 7 p.m.; Fri. and Sat., 8 p.m.; Wed. and Sat., 2 p.m.; Sun., 3 p.m. (Performances Sun., March 7, at 2 and 7 p.m.) (212) 239-6200, (800) 432-7780, or www.telecharge.com. Casting by Jay Binder/Jack Bowdan.