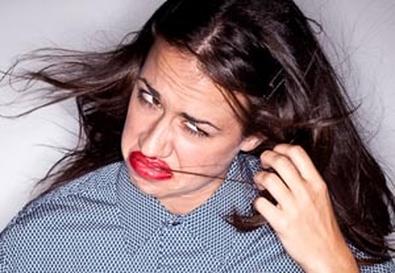 Colleen Ballinger
still has no clue how it happened.
At 2009's start, the 23-year-old was living in California, working at Disneyland and making
YouTube videos as Miranda
—a delusional, arrogant, tone-deaf young girl under the username "mirandasings08" out of her parents' house in Santa Barbara. "I thought, It's an inside joke, it's for friends, no one will ever see it," Ballinger recalls.
Then virtually overnight, the videos went viral.
According to Ballinger, the '
Miranda Sings
' videos went from 20 to 100 views to 100,000 in a single day. She started getting more fan mail (and hate mail) than she could read, along with requests to perform on Broadway stages. She was sought out by venues in San Francisco, Los Angeles, London, and even Australia.
"It just exploded," she remembers, still stunned by her sudden popularity.
A Meme is Born
Talk to three people who run in musical theater circles, and at least one (if not all) will be a Miranda fan. A vocal performance major, Ballinger got the idea for the character from girls around her Azusa Pacific University, a small Christian college.
"There were a lot of girls at the school who weren't very talented, but were very cocky and rude about it. That was when YouTube started getting really popular, and I would just see these girls, singing to their cameras alone in their bedrooms. And I just thought it was so stupid," she says.
She became mesmerized by those YouTube videos, especially the ones of earnest musical theater fans, usually teenagers, singing their hearts out to their computer cameras.
"It fascinated me, these kids who would sit in their living room or bedroom or kitchen and sing to the camera, and act out the song fully as though they were onstage," Ballinger says. "Because a lot of musical theater kids... do that alone in your bedroom when you're a kid. But for someone to go and put that online? That's just so embarrassing!"
Were she real, Miranda would be just that: embarrassing. She's in her mid-twenties and lives with her best friend, her mother, in Tacoma, Washington (where Ballinger's cousins are from). Head severely cocked to one side, she pronounces "singing" with a hard "G" and wears huge, bright red lips drawn to rival a sinister clown's. Her clothes are frightful: collared men's shirts buttoned all the way up; underwear hanging out of her dance leotard.
And then there are her vocals. Miranda never met a note she could actually hit, which requires a surprising amount of work from classically trained Colleen.
"Anyone can sing badly, but to sing badly on purpose and make it believable is harder. I listen for the actual melody in my head, but sing right underneath or above it out loud. It takes a lot of concentration." Miranda's dissonant repertoire is vast, from Beyoncé's "
Single Ladies
" to Mozart's "Queen of the Night" aria, with a ton of Broadway tunes in between.
But despite her shortcomings, Miranda is unflinchingly confident, wholehearted in her belief that she is gorgeous, talented, and a star.
In one of her most popular videos, "Free Voice Lesson," a somber Miranda gives a tutorial that's basically a compilation of everything real voice teachers tell students to avoid (lift the eyebrows to hit high notes; shake your head to make vibrato), while not-so-subtly extolling her own great talent along the way.
The voice lesson video struck a chord with vocalists (pun intended), who could recognize it as a spot-on parody. But the comments section of "Free Voice Lesson" reveals another facet of Miranda's popularity: a good chunk of her audience thinks she is a real person.
"This is the reason there are professional music organizations—to weed out stuff like this. If you're serious about taking voice lessons go to someone reputable, meaning someone with CREDENTIALS!" one commenter warns. "Is like half of your face paralyzed or something?" wonders another. "WTF is wrong with you?"
"It's sort of like an Andy Kaufman thing. You wouldn't believe the hate mail I get," Ballinger says. "You would never say that stuff to someone's face, but you can type anything online."
Indeed, there is no wink to the audience, no betrayal or crack that indicates that her horrible singing and high opinion of herself aren't completely genuine. The comedic effect, once you're in on the joke, is devastating.
Miranda Live
!
As "Free Voice Lesson" spread through the New York theatre community, Ballinger began fielding offers to perform at cabarets and clubs. She arranged the gigs herself in the beginning, using the videos themselves to help her negotiate contracts.
"People would message me and say I had to come perform in New York, so I would make a video saying that I wanted to go to New York, and I got tons of people commenting and saying, 'I work at Birdland, and I can get you in here for X amount of money,''' she says. "Or I would make a video saying I wanted to go to London, then producers from London would write me saying 'I can get you a venue.'"
Once shows were booked, Ballinger—who had no prior background in comedy—faced the challenge of turning her two-minute, improvised videos into one-hour live shows.
"Getting onstage and trying out all of my material, and what works well with audiences and what doesn't, what works well in different atmospheres, has been the best training," Ballinger says. "I don't think that anyone could have taught me the things that I have learned in the past year from performing live."
Miranda took well to the stage, and the demand for her hasn't slowed. She's performed with the
"Rock of Ages" cast
and given a dance lesson to the kids in "Billy Elliot." She's shared a stage with Broadway stars including Cheyenne Jackson, Shoshanna Bean, and Lin-Manuel Miranda of "In the Heights" fame. MAC Cosmetics even gives away an official shade of bright red Miranda lipstick, Russian Red, at some shows.
The Future
Ballinger, who once imagined singing in choirs for living, now hopes to take Miranda even further, in perhaps a full-length one-woman show or mockumentary film. She's loving comedy for now and is optimistic about her career, with and without Miranda.
"People ask me if I'm worried that I'm going to be stuck in Miranda forever. I'm not, because how could I complain about what I've been given?
"Almost every dream that I've ever wanted for myself has been accomplished in some way. I've met all of these people that I've idolized growing up. I've traveled all year, been to Europe three times, been to Australia. So for me to complain about that, I feel like it would be so selfish and awful. I've been having a blast."
Catch 'Miranda' live on Aug. 3 at the Rrazz Room in San Francisco, CA; Aug. 18 in Red Bank, NJ; Aug. 26th in Provincetown, MA; or Sept. 12 in Ireland. For more information, and the latest videos and vlogs, visit the Miranda Sings Facebook page. The full catalogue of Miranda Sings videos is available on her YouTube channel. For more info on Colleen, visit her Broadway World page.