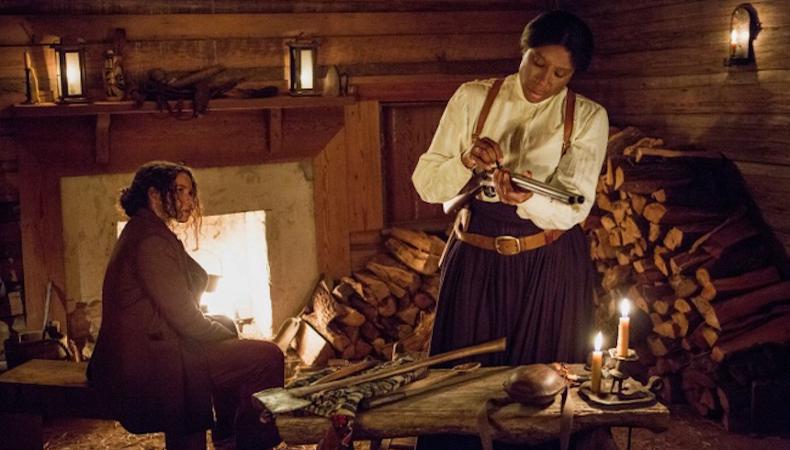 A show set during one of the darkest chapters of American history may not sound like typical prime-time fare, but WGN America's "Underground" is not only every bit as thrilling as the action-adventure dramas it emulates—it transcends them. Series co-creator Misha Green says she intended to break the shackles inherent to telling slavery narratives from the start.
"A lot of people look at this time period and they feel guilt or that we have to be sacred about it, and I don't feel any of those things," she says. "I think that frees us, storytelling-wise, because it's just about, 'What is this story and what is the interesting version of this story?' "
Framing a drama about the Underground Railroad as a genre thriller was a gamble, but "Underground" succeeds in defying expectations. Green and co-creator Joe Pokaski met as staff writers on "Heroes," and their shared background in genre television shaped the sensibility of the show. Together, they rejected reductively framing the story.
"We've always said that this show is not about the occupation, it's about the revolution," Green says. "It's a story about people fighting back against incredible injustice, and that's a simple story. Everybody wants to watch the underdog win."
The underdog doesn't always win, however, and there are still moments of the brutality you'd expect from this subject matter. When filming some of the more harrowing scenes, Green recognizes the importance of cultivating trust on set. "When there are difficult scenes like Jurnee [Smollett-Bell] in the whipping scene, we say, 'We know this is hard, we're out here in the elements, and we're asking you to go there. We know you're making an offering for this art, and we're here to support you in that,' " she says.
READ: Jurnee Smollett-Bell on Giving Voice to the Voiceless
An "offering for this art" happened on both sides of the camera. Green says working on "Underground" inspired personal self-reflection and a reflection on today's modern times. "The first season, what we talked a lot about was this idea of challenging yourself and asking, 'How active is your activism?' " she says. Though "Underground" is set in 1857, the show's thematic core of battling injustice echoes in today's fraught social and political climate. Rather than feeling discouraged by these reflections, Green was often inspired by the stories of heroism she came across in her research. "It just was a reminder that there are good people in the world, and they will fight back against injustice," she says. "If they can fight that, we can beat anything we're up against today."
In building her cast, Green sought actors who shared her commitment to social justice.
"When people walk into our casting room, we do think about what you do outside of being an actor," she says. "Our show is very much about activism, and [we want to find] people who are in line with that." That held true when casting new roles for Season 2, among them Frederick Douglass (played by executive producer and "La La Land" singer-actor John Legend). Season 1 also ended on a cliffhanger with the appearance of Harriet Tubman. Aisha Hinds brings the Underground Railroad icon to the small screen. "The casting process starts off really scary," Green admits, "especially when you're trying to find a Harriet Tubman. But then Aisha Hinds, who is amazing, walked into the room and just embodied Harriet right away."
As "Underground" heads into its Season 2 premiere on March 8, the scope of its world expands, so get ready to meet more new characters, friend and foe alike. The core characters, Green says, "were in this bubble on the Macon Plantation, and now they're by themselves out in the world and it's harsher than they thought it was. They find that freedom isn't free. They still have to fight."
Want to be on TV? Check out our TV audition listings!