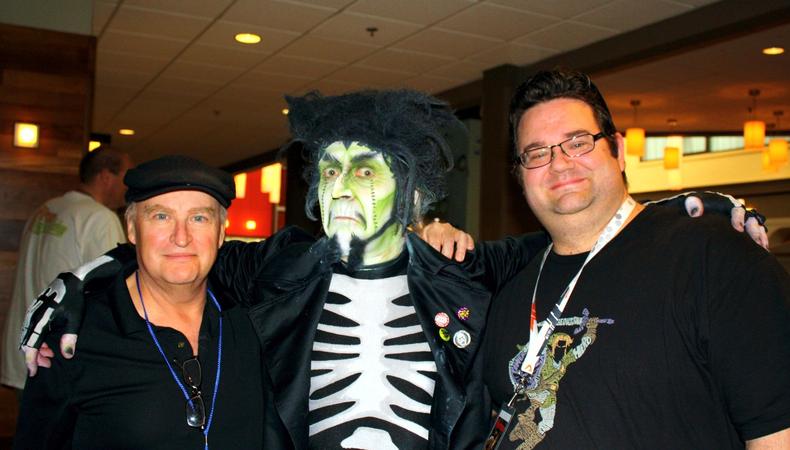 With Dragon Con attracting more than 70,000 costumed fans of movies, television, comic books and other theatrics to downtown Atlanta over Labor Day weekend, one might think that was the final act for Atlanta's con season. While Dragon Con is summer's big bang when it comes to conventions, fall offers several more opportunities to dress up as your favorite anime characters and monster movie villains while interacting with actors from your favorite cartoons, films and TV shows. Here are five fall conventions Atlanta-based artists and enthusiasts won't want to miss.
Anime Weekend Atlanta (Sept. 24–27)
Celebrating its 20th anniversary, Anime Weekend Atlanta is a four-day convention dedicated to Japanese animation, comics, art and video games. AWA features numerous panels, cosplay contests, gaming competitions and musical performances virtually around the clock. Anime and video game voice actors such as Daisuke Sakaguchi, Lisle Wilkerson, Christopher Sabat, Kaiji Tang, Toby Proctor, Linda Ballantyne, Michael Sinterniklaas, Stephanie Sheh, Cassandra Morris and Team Four Star will be on hand for panels and to offer advice to those looking to break into the industry.
Monsterama (Oct. 2–4)
This second annual celebration of horror takes place the first weekend of October and features fantastical guests from film, literature, art and more. This year's monstrous main attractions include Ricou Browning of "Creature from the Black Lagoon" (who will be part of a pool-side luau on Oct. 2), Lynn Lowry (who will provide an introduction to a screening of "The Crazies") and Candy Clark from "American Graffiti," "The Blob," and "The Man Who Fell to Earth". In addition to informative panels, screenings and autograph sessions, Monsterama also offers an opportunity to have Sunday brunch with Victoria Price (daughter of horror legend Vincent Price) and a chance to interact with special effects artists, writers, and other horror professionals.
EyeCon (Oct. 9–11)
Emerging from the proverbial coffin in 2011, EyeCon is the first American convention dedicated to the locally-filmed "The Vampire Diaries," and its subsequent spinoff "The Originals". Baring its fangs one final time, this year's three-day event features stars such as Joseph Morgan, Michael Trevino, Daniel Sharman, Chris Wood, Rob Pralgo, Chase Coleman, Paul Telfer and Micah Parker. EyeCon not only offers Q&A sessions and photo opportunities with these celebrities, but it encourages them to mingle with fans at EyeCon parties and other events. Additional programming includes a screening of an episode of "The Vampire Diaries" with live running commentary from director Joshua Butler.
Atlanta Comic Convention (Oct. 18)
The fall edition of this quarterly event features numerous comic book vendors, action figure dealers and artists such as "Deadpool's" Nathan Massengill and "Pathfinder's" Kevin Stokes. Adult Swim voice actor C. Martin Croker, best known for voicing Zorak on "Space Ghost Coast to Coast" and Dr. Weird on "Aqua Teen Hunger Force" will also be on hand to sign autographs, meet fans and offer advice to aspiring voice actors.
Walker Stalker Con (Oct. 30–Nov. 1)
With an emphasis on the Georgia-filmed "The Walking Dead," Walker Stalker Con takes place in various cities throughout the United States and beyond. It emerges again in Atlanta for Halloween weekend, with top stars from the show including Andrew Lincoln, Chandler Riggs, Michael Rooker, Norman Reedus and more. In addition to more than two dozen other actors from "The Walking Dead," Walker Stalker also includes several stars from "The Vampire Diaries," Robert Englund of "A Nightmare on Elm Street," Kane Hodder (who portrayed Jason Voorhees in several "Friday the 13th" films) and various other guest from horror films and TV shows. Aside from panels and autograph sessions, you can also catch a musical performance from Emily Kinney, IronE Singleton's one-man show "Blindsided by the Walking Dead" and other interactive events.
Inspired by this post? Check out our Atlanta audition listings!