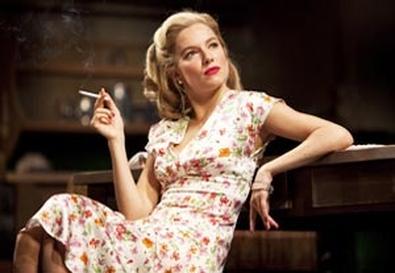 After Roundabout's recent "Bye Bye Birdie" debacle, it's heartening to be able to report that the company has bounced back with a gripping production of Patrick Marber's "After Miss Julie," his reworked version of Strindberg's classic. Now set in the kitchen of an English country mansion on the 1945 evening when Winston Churchill's Conservative government lost to the Labour Party, this trenchant look at class and sexual warfare feels right at home.
The plot remains essentially the same. The aristocratic daughter of the house, Miss Julie, pursues her father's strapping chauffeur, John, ends up in his bed, and pays a terrible price for her transgression. The deeply conventional Christine, a cook and John's unofficial fiancée, is the third character. Marber beefs up the role, integrating Christine more successfully into the action and turning the play into the story of three people rather than two. His choice of time and place enhances the tale: Labour's landslide victory presaged great changes in Britain's class system. A society was cracking open, and you can feel the heady atmosphere informing Miss Julie's reckless behavior.
Film star Sienna Miller essays the title character. Though this is only her second stage appearance, she is clearly to the medium born. She wrings every nuance from her mercurial character and is particularly adept at suggesting the damaged girl within this restless and unhappy young woman. While Miller's beauty lights up the American Airlines Theatre, she doesn't rely upon it and is indeed fearless in abandoning it when necessary. When Miss Julie's fantasies of running off with John to New York to start a new life collapse, Miller turns her character's attempt to reassert her class privileges into a throbbing wound. Even when Miss Julie's actions threaten to destroy everyone around her, Miller makes her selfishness understandable and even sympathetic.
As John, Jonny Lee Miller (no relation) is a worthy adversary. Despite the character's steely self-containment, Miller capably illuminates John's violently shifting emotions. We sense both his fear of Miss Julie and his hunger for her. Indeed, the sexual tension between them starts on high and shifts higher. At one point Miss Julie commands John to kiss her shoe "as a sign of respect," only to keep snatching her foot away when he attempts to comply. John's solution to his dilemma, strikingly performed by both Millers, perfectly encapsulates the characters' relationship.
The excellent Marin Ireland holds her own and then some as Christine, who is much more at home in her own skin than either Miss Julie or the calculating John, whose servitude chafes. This is most likely because Christine is the least imaginative of the trio. She clings to the church and her place and expects John to do the same. Ireland gives her a warmly maternal presence, which turns furiously cold once John betrays her, leading to a shocking act of cruelty that Ireland makes entirely human.
Director Mark Brokaw keeps the dramatic tension crackling, even when Christine is left alone on stage, pottering about in Allen Moyer's finely detailed stately-home kitchen while Miss Julie and John dance at the party offstage. Brokaw is particularly good at marking the shifts in power between the characters. Michael Krass' apt costumes reflect both character and class. Mark McCullough's observant lighting is as much about shadows as it is about light. He charts the progression of time, from night to very early morning to morning, with subtle effectiveness.
It's surprising that someone afflicted with such misogyny—read Strindberg's preface to "Miss Julie"—could create such a truthful portrait. No doubt that's one mark of an artist. In any event, this "After Miss Julie" is a work of bracing theatrical art.
Presented by Roundabout Theatre Company in association with Sonia Friedman Productions and Ostar Productions at the American Airlines Theatre, 227 W. 42nd St., NYC. Oct. 22–Dec. 6. Schedule varies. (212) 719-1300 or www.roundabouttheatre.org. Casting by Jim Carnahan.