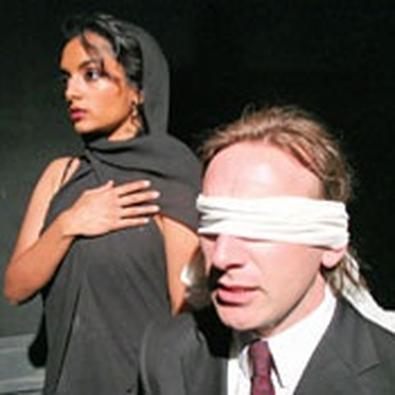 The idea behind Charles Duncombe's new adaptation of Heiner Müller's The Mission is fantastic. To take an expressionistic exploration of revolutionary France's attempts to spread its ideals--and religion--by freeing the people of Jamaica from slavery and tyranny at the end of the 18th century and to overlay our own modern history of spreading God and democracy whatever the cost--well, it would seem a natural fit, particularly in the visionary hands of the laudable talents at City Garage. But although The Mission (Accomplished) is chock-full of wonderful images and dynamic performances, the pieces never quite come together.
Tightly directed by Frederíque Michel and designed by Duncombe (sets and lights; nods also to Josephine Toinsot's costumes and sound designer Paul Rubenstein), the striking production features a committed ensemble, unafraid to embrace the challenging material. Troy Dunn is outstanding as the conflicted Debuisson, a man with a mission and a past, who understands the seductive nature of a revolution and the full range of those who suffer its consequences. Cynthia Mance has a nice turn as a woman betrayed by a soldier's "other mistress." Bo Roberts and Dave Mack hold their own as Debuisson's comrades at arms, and these three men guide the central narrative: three French revolutionaries whose task is to incite a slave rebellion but who find themselves caught up in the hypocrisies behind their actions and face to face with the price of freedom. This story, however, is often eclipsed by the many layers of theme and content that were built into Müller's theatrical collage and multiplied here. These include "The biggest Dick in the world" Cheney (Roberts), spouting profanities as he wrestles Mexican luchador-style with the instigator of the French revolution's "reign of terror," Maximilien Robespierre (Mack); the dancing angel of death (a terrific Ishani Das); a captivating female slave (Amanda Mayen); 9-to-5 drones losing touch with reality as they attempt to follow the orders of their corporate master. On the sidelines, there's George W. (John Deschamps) blathering on about the God-like nature of his and America's global role, and an American G.I. in Iraq (Maximiliano Molina) confessing his qualms to the folks back home.
So while there's a lot of good stuff here and we're able to intellectually follow the lines--and applaud the goals--of The Mission (Accomplished), the production fails to ever connect, emotionally. Which leaves audiences as confused as, perhaps, soldiers in today's elusive war on terror.
Presented by and at City Garage,
1340-1/2 Fourth St., Santa Monica.
Fri.-Sat. 8 p.m., Sun. 5:30 p.m. Apr. 25-Jun.1
(310) 319-9939. www.citygarage.org.