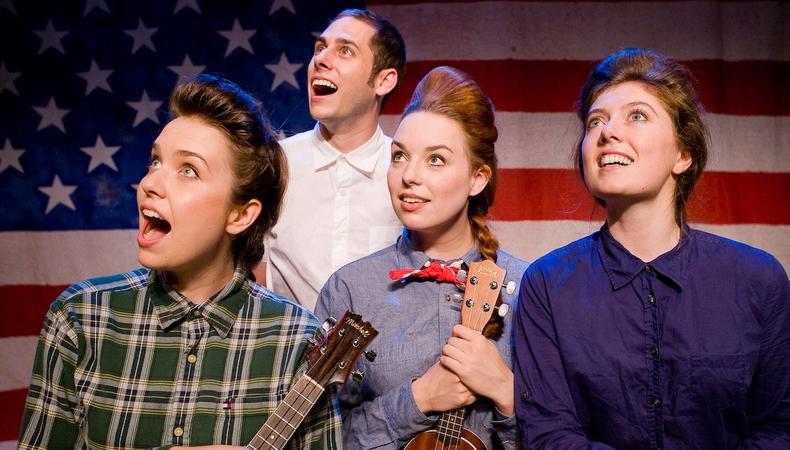 A musical that pokes fun at Mormonism? How could that ever succeed?
The Ukulele Orchestra of Great Brooklyn may be mining for a bit of the same satirical gold that Trey Parker and Matt Stone amassed with "The Book of Mormon." But "Missionary in Manhattan," written by Ukulele Orchestra members, falls far short of the Tony winner, both in terms of aim and achievement. To even make the comparison is absurd. Running about 45 minutes, "Missionary" isn't a real book musical; it's just an extended comedy sketch with songs. The show's creators have taken contemporary pop tunes and given them topical, Mormon-themed parody lyrics. Cast members strum their ukes as they sing, without additional accompaniment.
The show, directed by Kaleigh Malloy, has more in common with Dan Goggin's "Nunsense" franchise. Instead of a gaggle of hammy Catholic sisters putting on a variety show, we get a trio of hammy fundamentalist Mormon "sister wives"—Sister Gretchen (Caitlin Davis), Sister Bunny Katherine (Elizabeth May), and Sister Fanny (Lily Narbonne)—staging a New York City performance in what's billed as their "Have You Seen Him?" tour. The man in the titular question is the wives' mutual "brother husband," Charles Gregory Howard (Dave May). It seems that Charles Gregory came to the big bad city to do missionary work but got sidetracked by Manhattan's cabaret scene and a friendship with his vocal coach, Gerard.
At first the women appear to be clueless about the nature of their missing husband's proclivities, but before long it becomes clear that they know exactly what's up and are more than a bit peeved about it. Sister Bunny is the one who confesses the truth to the audience: Charles Gregory is "a homosexual with his butt."
Much of the humor here comes from hearing pious, starchy women talking about "poop" and "dick" and rocking out with their ukuleles on such songs as "It's Raining More Men" (or "It's Raining Mormon," depending on how your ear catches it) and "Bless You," a reworking of Cee Lo Green's "Fuck You" (aka "Forget You"). If you love what Weird Al Yankovic does, you may like some of the tunes. If not, you'll likely be disappointed.
The vocal harmonies that the three wives create are often rich and lovely; Narbonne in particular is a gifted singer. But as someone who likes the ukulele sound, I was surprised by how quickly it can become monotonous when there's nothing else in the instrumental mix.
In "Nunsense" each nun has a distinctly delineated personality. In "Missionary" there's not much that sets the women apart. They're pretty much three jilted polygamists in a pod. It's a watered-down comic variation on poor Harper Pitt from "Angels in America"—in triplicate. When Charles Gregory finally shows up "Missionary" undergoes a tonal shift from zany and vulgar to considerably more serious. The husband's presence adds a welcome dash of dramatic tension, but how can you be asked to care seriously about what happens to caricatures like these? It's a little like looking for emotional catharsis in a traveling-salesman joke.
Presented as part of the Dream Up Festival by and at Theater for the New City, 155 First Ave., NYC. Aug. 23–Sept. 9. Wed. and Thu., 9 p.m.; Sat. and Sun., 5 p.m. (212) 868-4444 or www.smarttix.com.
Critic's Score: C-