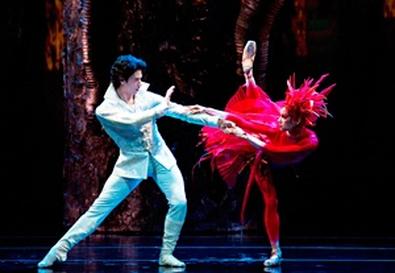 American Ballet Theatre soloist Misty Copeland is fierce in an almost equine way. Though she started dancing at the late (by industry standards) age of 13, her muscular body turned out to be made specifically for classical ballet. On top of her technical prowess, Copeland shimmers with enigmatic stage presence, imbuing emotional intensity in roles from the traditional and contemporary canons alike.
Copeland is also a markedly modern ballerina, stretching into other realms such as dancing with Prince and courting the fashion world with her dancewear line, "M by Misty." But she's set on maintaining a serious focus on ballet -- and becoming a role model for young African-American ballerinas.
She's now manifesting this goal by stepping into her most prestigious part yet, as one of three ladies tackling the title role in Alexei Ratmansky's new "Firebird" with American Ballet Theatre. "I'm beyond grateful for this opportunity," says Copeland. "I never dreamt my face would be on the front of the Metropolitan Opera House, not to mention a black woman representing ABT. That's historical in a small, special way. I want to show young black ballerinas that it's truly possible to succeed."
Growing up in San Pedro, Calif., Copeland was first encouraged to consider ballet by her dance team coach. "I had auditioned on a whim," says Copeland. "Months later, my coach told me I had the physicality and talent to pursue ballet."
Copeland took her coach's advice, and teachers at the San Pedro Dance Center and Lauridsen Ballet Centre also encouraged her. Three years later, Copeland was confident. "Though I began later than most dancers, I adapted quickly," Copeland says. "Naive to what I was doing, I didn't feel I had any limits. I never questioned I would make it."
At 17, Copeland began her professional career with American Ballet Theatre's studio company. A year later, she joined the main troupe as a corps member. "I felt motivated by the talented people around me," Copeland says.
Amid the thrill and hard work, it took Copeland a few years to even realize she was the only African-American woman in the company. Though her excitement never waned, "I had periods of thinking about going to other companies with more black dancers," she says. "But a board member at ABT noted I might be the first African-American principal at ABT. It provoked more determination. ABT is my dream company, so I decided not to give up."
After seven years Copeland was rewarded with a promotion to soloist. "I felt I deserved to be in that position, but I also wanted to make the most of it," she says. "Each time I go onstage is important. And now, I feel mature enough to carry the weight of a ballet."
She'll do just that in "Firebird," with support from innovative ABT artist-in-residence Ratmansky. "I respect Alexei and the way he works," says Copeland. "He's mild-mannered but gets his point across in a warm way; you want to please him and yourself."
Copeland adds that on top of Ratmansky's engaging demeanor, his movement is "like none I've ever done before. It's organic but novel. I never knew I could move that way. He pushed me to my best limit."
After the premiere in Los Angeles, Copeland is looking forward to proving to herself she can repeat the authentic performance she delivered during the whirlwind experience out west. More than anything, she's looking at the performances as an opportunity to "keep ballet as my focus," she says, with a heartfelt laugh. "I'm so happy that Kevin [McKenzie, artistic director of ABT] and Alexei have given me this serious opportunity to step out as a classical ballerina."