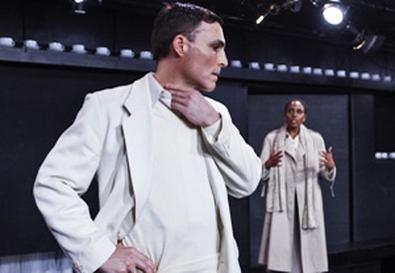 To understand Albert Camus' "The Misunderstanding," it's important to remember the circumstances that gave it birth. Presented in 1943 by a 29-year-old Camus in a Paris ruled by the German occupation, it is a youthful cry from the heart of man's inhumanity to his fellow man. Given the threatening climate in which the play was presented, Camus demonstrates not only a lively intelligence but a simple bravery in stating his cascade of rebellious thoughts. By necessity, therefore, the play is cloaked in metaphor, trailing a train of symbols, with Camus styling the drama with all the inevitability of a Greek tragedy. In the Greek style, each character gives the argument for his or her actions, whether for good or ill. Thus Camus is able to air his thoughts on innocence, grief, guilt, betrayal, punishment, integrity, and silence, wrapping all these in what is essentially an existential debate. Although Camus' arguments come thick and fast, the play moves at a deliberate pace as it develops into more of a treatise than an organic drama. And, oh, the vision is bleak, with Camus' absurdist creed summed up by one of his characters: "This world we live in doesn't make sense."
The basic plot has distinct echoes of the Bible and Greek drama. The son, Jan (Rafael De Mussa), who for 22 years has been living in an unnamed land, returns to Europe to visit his mother (Ellen Crawford) and his sister, Martha (Wendy Allegaert). He comes with his wife, Maria (Erin Cherry), and decides not to announce his true identity. This is unfortunate, because the two women, who run a lonely inn, murder their guests and rob them for survival. The only other character is the mute manservant (Stuart Rudin), who in the final scene is Camus' stand-in for God.
Downstairs in the Flea's black box, the only touches of humanity on Michael Moore's set are rows of gleaming white teacups and saucers. In Jack O'Brien's straightforward translation, the language has a formal abstraction, giving the actors no easy task in presenting Camus' arguments. This Horizon Theatre Rep production, under the direction of Alex Lippard, might have gained more credence by honoring this formality and clinging more to the play's Greek roots. Due to Lippard's approach, both Allegaert and Cherry are at their best only when they can let rip in their emotional crises. It is left to Crawford to provide the tone of formal, weary resignation the play demands.

Presented by and at the Flea Theater, 41 White St., NYC. Nov. 2–22. Thu.–Sat., 9 p.m.; Sun., 3 p.m. (No performance Sun., Nov. 8; additional performance Mon., Nov. 9, 7 p.m.) (212) 352-3101, (866) 811-4111, www.theatermania.com, or www.theflea.org. Casting by Cindi Rush.