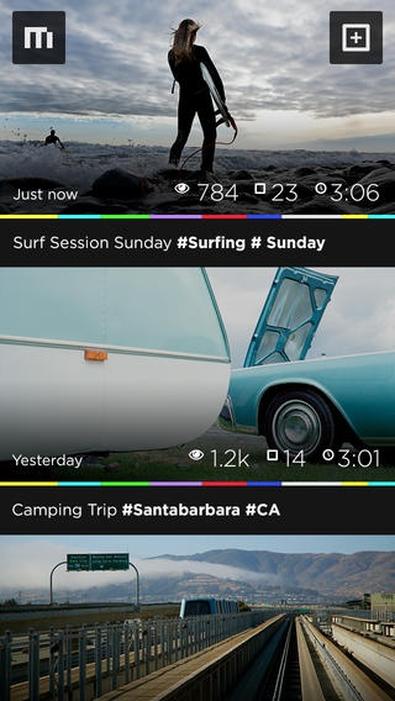 What It Is:
Mixbit
What It Does:
Records short video clips that can be edited and combined with your phone's camera roll
Where to Buy It:
https://mixbit.com/download
What It Costs:
Free
These days aspiring filmmakers and storytellers have plenty of ways to capture their ideas, but few video apps offer the creative flexibility you'll find with Mixbit. While the concept of using your smartphone to record video isn't new, Mixbit does exactly what the name implies—it allows the you to mix, match, and edit various clips at your leisure.
Launched earlier this year by the founders of YouTube, the free iOS and Android app combines the micro video-blogging attitude of Vine with more complex controls. You can shoot video in 16-second increments and re-arrange them in any order by pressing and dragging them. Each clip appears as a thumbnail underneath the video as it plays back, and tapping a single sequence will allow you to edit it. From here, clips can be deleted, duplicated or cut.
But what truly makes Mixbit stand out is that it allows you to import existing photos and videos from your camera roll. So, for instance, if that footage of a sunset by the beach that you captured in July fits perfectly with a concept you're working with, you can drop it right into your video compilation.
The Mixbit app also features an attractive multicolored scrubber beneath the video that makes it easy to see when one scene will transition into the next. Each clip is represented by a different color, allowing you to clearly see how long each sequence is compared to the next one.
Since the app is intended for the everyday smartphone user, the controls and interface are incredibly simple. When creating a new video, simply press the screen to begin recording and lift your finger to commence the process. To cut a clip, select the sequence you wish to edit, tap the second icon underneath the video and drag the scrubber to the section you'd like to cut.
When your video is completed, tapping the arrow will allow you to publish it to the Mixbit community. Before posting your work, you can add a title, tags and your location. If you don't feel like registering for a free account or signing in with Facebook, you can choose to share your videos to Mixbit.com anonymously.
Mixbit is aimed at casual social-oriented use rather than professional cinematography, but its tools can come in handy for recording quick ideas. The on-the-go actor can rehearse lines with a partner and seamlessly weave them together, and filmmakers can shoot brief scenes to experiment with new concepts.