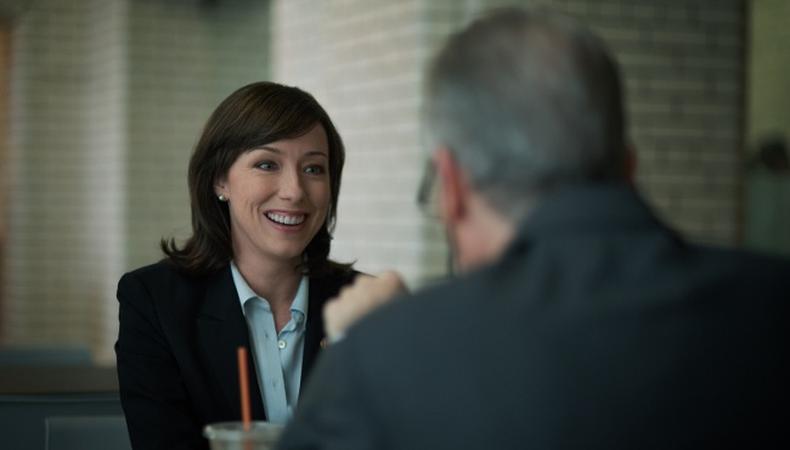 Molly Parker was shooting a Christmas movie in northern Ontario when she sat in a trailer on her lunch break to audition for a role on Season 2 of "House of Cards." Spoilers abound below!
"I had a red shirt on because I'm playing a mom in the movie, so I took off the bobbly Christmas tree earrings and made my co-star help me," she says. "I put it on tape, sent it to them, and they were like, 'We love her but we want to see it this way,' and they asked me to do it again, which I did. The creator, Beau Willimon, was a huge fan of 'Deadwood.' I came to know later that he had been thinking about me for it, but [I] had to do the whole process."
Parker landed one of the smartest, most promising roles on Netflix in Jacqueline "Jackie" Sharp, handpicked by Frank Underwood (Kevin Spacey) as his replacement whip in the Senate. While Frank calls her the complete package, it's her almost Machiavellian ability to produce no matter the cost—particularly in her affair with lobbyist Remy Danton— that attracts Frank to her potential.
"I'm grateful that she's written as a woman who owns her sexuality and uses it consciously," says Parker. "She's not afraid to use it to get what she wants, in the same way that she's not afraid to use her mind or her sense of humor or any other aspect of herself. This is a character who's deeply ambitious and out to get what she wants, but she's not using sexuality in a way that's underhanded."
To prepare, Parker read books on Condoleezza Rice, Hillary Clinton, and Nancy Pelosi. Although she said Jackie is nothing like them, the books were insightful. "What struck me in reading was just the kind of person you need to be to be operating at that level," she says. "Nancy Pelosi flew back and forth between San Francisco and D.C. every weekend for a decade to be with her family."
The same refocused resilience in the unmarried Jackie makes her compelling to watch, standing strong every time you think she'll bend; she proves it when she moves against Frank's wife, Claire (Robin Wright), on passing a bill that allows military rape cases to go to civilian trial.
"We think she is Francis' soldier, that she's just going to do what needs to be done for him no matter what because of the moves she makes in the beginning [sabotaging a family friend's career] to get in his good graces," explains Parker. "Then this comes up that seems a no-brainer; any woman would approve of this, you'd think, and of course she doesn't.
"We come to find that she is principled and that her principles are rooted in her military experience. Specifically, chain of command; if you're going to ask people to kill in war, chain of command is what protects them, not just legally but morally, from it being murder."
During the 2014 White House Correspondents' Dinner, which Parker attended, a Hawaiian congresswoman thanked her for even talking about the issue on television. Regardless of her character's stance, Parker was both surprised and grateful. "I wanted [Jackie] to take up a lot of space. I don't know if I was successful, but I wanted that. I wanted to not seem little," she says. "I'm working with some really powerful people on this show who take up space—that was something I thought about."
The actor admits that after Jackie opposed the bill, she thought she'd be watching Season 3 from her couch. "Are you kidding? I thought they were gonna kill me, for sure," she says, laughing. "In one episode I made an enemy out of every single person on the show—I thought I was dead!"
But Jackie lives on—though in the world of "House of Cards," there are no guarantees of her longevity.
Like this article? Check out our interviews with other Emmy-worthy performers all week!