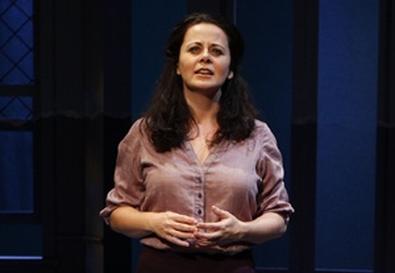 My usual reaction to monologue plays is to think, "Why didn't the author just write a novel?" If your characters aren't going to interact, only telling us the story rather than living it, we might as well be reading it on a cozy couch with a nice cup of tea. Brian Friel's "Molly Sweeney," which won the 1996 New York Drama Critics Circle Award as best foreign play, is the rare exception to this rule.
The 1993 play revolves around the titular courageous blind Irishwoman; Frank, her charmingly enthusiastic husband; and Mr. Rice, the alcoholic eye surgeon who partially restores her sight. In separate speeches, each recalls his or her version of the events leading to Molly's miraculous cure and the shattering aftermath. Sightless Molly has created a vital world of sensations, and the intrusion of a fifth sense distorts her perceptions and eventually leads to a nervous breakdown. Frank is obsessed with his wife gaining the power of sight, but once she does and her conflicted reaction sets in, he proves incapable of sticking with her and takes off for a hunger-relief project in Africa. Rice sees his star patient as a means to return to the limelight, which he fell out of when his wife deserted him for a colleague. There is no physical or dramatic connection between the actors, but Friel uses this to emphasize the characters' lack of emotional connection. In addition, the language is dazzling, and its accumulation of revealing details approximates Molly's pre-seeing world.
The postage stamp
–
size Irish Repertory Theatre is the perfect setting for this jewellike play. Staged with economy and sensitivity by artistic director Charlotte Moore, the three-part chamber piece achieves a remarkable intimacy. With the actors so close, it feels as if you're sharing a pint with the characters along with their life stories.
Geraldine Hughes, who was nominated for a Tony for Friel's "Translations," endows Molly with an intensity that's almost too brilliant to bear. She magnificently conveys this huge-spirited woman's thirst for life. There are two particularly memorable moments in this heartbreaking performance. The first occurs the night before Molly's fateful operation, when during a neighborhood party, she bursts into a rebellious dance. Hughes searingly imparts the spectrum of emotions surging through Molly: confidence in her ability to navigate her surroundings, defiance at her husband for believing she is incomplete without sight, and anger that he wants to take her unique world away from her. The second is a blazing description of how Molly experiences swimming and how the combined heightened sensations of water and motion make the sport infinitely more pleasurable for her than for sighted people. Hughes lives these moments so fully that you can almost feel the rush of Molly's dancing and swimming.
Ciaran O'Reilly is equally intense as the goodhearted but ultimately dilettanteish Frank. The only weak link is Jonathan Hogan's Rice. Granted, the actor is not given as many opportunities for bravura turns, but Frank comes across too often as flat and uninvolved. We have to see the formerly vital surgical star inside the whiskey-soaked wreck he's become. Hogan does show brief flashes of Rice's previous sparkle, but it's too little.
James Morgan's deceptively simple set and Zachary Williamson's haunting sound design create the appropriate visual and aural environment for this powerful exploration of the senses.
Presented by and at the Irish Repertory Theatre, 132 W. 22nd St., NYC. Jan. 30–April 10. Wed.–Sat., 8 p.m.; Wed., Sat., and Sun., 3 p.m. (212) 727-2737 or www.irishrep.org.