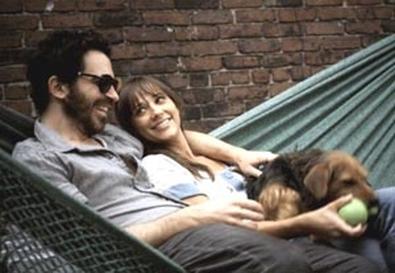 After about 40 minutes of watching this tiresome film, you may just want to forget about any sort of cinematic monogamy and find another movie to see.
It's not that this first narrative effort from Dana Adam Shapiro, the Oscar-nominated director of the documentary "Murderball," is terrible. It isn't. It just fails to live up to an intriguing premise that sputters when it should sizzle—no fault of the fine cast but rather the lackadaisical direction from Shapiro, who seems to be more at home with real-life subject matter than this contrived thing, which turns out to be less "Blow Up" and more "blew it."
In the thin storyline, seen-it-all wedding photographer Theo (Chris Messina) is engaged to singer Nat (Rashida Jones), a seemingly good girl. With their Brooklyn wedding about three months away, Theo branches out and takes on creative photographic work in which he is hired by clients to secretly shoot them as they go about their daily lives—he calls it a "Gumshoot." The idea is to show them as other people might see them, without the posed nature of many photos.
This goes well until he gets a gig shooting a stunning and sexy young woman (Meital Dohan) who quickly reveals herself to be something of an exhibitionist, performing highly suggestive (and beyond) acts just as she knows Theo is out there watching through his lens. Of course, this is not going to stop on a professional level for the young photog, and he becomes obsessed, essentially stalking her 24/7 and questioning his own sexual satisfaction with his soon-to-be bride—hence the film's title.
The fault with all of this is Shapiro's pacing. It is just too lazy, and the film's point is seemingly lost in a mundane indie exercise in style that evaporates into a predictable and unsatisfying drama. The idea clearly was to explore the meaning of commitment in the face of sexual temptation, but Shapiro gets lost in the kinkiness of the premise and the seedier aspects of what could have been an enlightening look at the purpose and value of monogamy in modern relationships.
Messina ("Julie & Julia") manages to offer a complexity to his forlorn character but fails, no fault of his own, to get under the skin and explore the motivation of this thinly written guy. There seems to be little chemistry between Theo and Nat, and maybe that's the point, but the engaging Jones tries her best to bring something to the table here. Unlike Theo's photos, nothing much develops in this regard.
Blame it all on the script, which veers into pretension more than into insight. Dohan, on the other hand, is completely believable as the
object
—emphasis on the word "object"—of his obsession, and this fine Israeli star gives it her all. Clearly, Shapiro's experience in the documentary world fueled his interest in shooting in a cinema vérité style here, thinking he was capturing life as it happens. The irony is, nothing seems real.
Genre: Drama
Written by: Dana Adam Shapiro and Evan M. Wiener
Directed by: Dana Adam Shapiro
Starring: Chris Messina, Rashida Jones, Meital Dohan, Ivan Martin, Neal Huff, Sarah Burns.