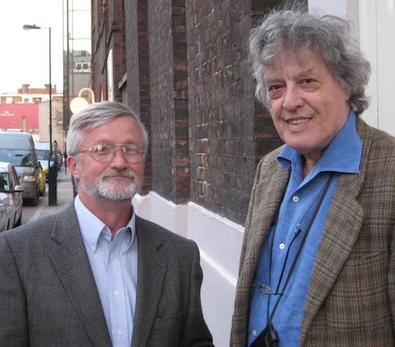 As a scholar of 20th- and 21st-century Western drama, Bill Demastes is constantly approached by Louisiana State University's performing arts students with questions about everything from Shakespeare and Albee to audition and monologue advice. Demastes specializes in the tricky transition from page to stage, and his work in textbooks such as "Beyond Naturalism," "Spalding Grey's America," and "The Cambridge Introduction to Tom Stoppard" provide an invaluable source of information for working actors making that transition.
"When I'm dealing with [actors] I'm looking at text," says Demastes, who currently teaches a heavy load of introductory Shakespeare courses at LSU. What exactly does examining text entail? "If you do a Shakespeare speech most people are going to remember that's Shakespeare," he adds. "If you do a speech that you have kind of made your own in one way or another by understanding it and inserting into it part of yourself, that seems so much better than doing what everybody else seems to be doing." Here are a few ways to improve that understanding.
On monologues.
Is there such thing as an ideal, one-size-fits-all monologue? "If I didn't know an actor or somebody came in and just asked me what is a good monologue, I might refer to something like Portia's 'quality of mercy' speech in 'The Merchant of Venice' or Hamlet's advice to the actors," says Demastes. "But the best monologues are the ones that tailor fit the actor, the persona of him or herself." Regardless of whether the text is ancient or contemporary, Demastes advises, "Find something where you understand the language. Not only what is being said but also what's not being said in the monologue. [Be] able to bring those silences or those empty spaces out through your acting; a good combination of understanding the language, but more importantly—or as importantly—understanding the elephant in the room. I think selecting those kinds of monologues gives the actor the opportunity to demonstrate voice but also do so much more on the stage than simply speak the lines."
On identifying that elephant in the room.
Demastes has contributed to collections of short plays and speeches selected from them. "One of the things I like about doing both the monologues and the short plays," he says, "is my students can take a speech, even a paper they've written, and reduce it by 20 or 30 percent." Editing, especially when it comes to texts over 400 years old, is a useful tool in the actor's toolkit.
"I tell them it's like that game in the old days, pickup sticks. Where you pull out a stick and make sure the structure doesn't collapse. How much can you actually pull out of that speech without the speech collapsing? When you get to the point where you think you've gotten rid of all the unnecessary adjectives and adverbs and digressions, then are you able to fill in what you've pulled out by doing something more with the speech?" For Demastes, removing those digressions is necessary for a performer's confidence. "That becomes good theater in my mind. It becomes a great monologue because the actor has understood what the monologue is about and has put something into it."
On short plays.
"I really like the efficiency of a short play," says Demastes. "I think sometimes full-length plays in theater venues seem to me to be dragged out for the sake of needing to be full-length plays. What a playwright at his best can do in a short play is probably equal to and probably more impressive than a full-length play, where you have all the time in the world to develop what you're working on. Whereas in a short play, you have to be as efficient as you possibly can be. That's what impresses me. Don't waste space, don't waste time, don't waste words making points. Once the playwright starts expanding into full-length plays I think something gets lost in the form."
The prevalence of full-length plays also means an actor can deploy smart, unusual choices in the audition room, making more obscure monologue selections from great short plays. As Demastes points out, it's mostly an overlooked dramatic style. "There are now venues in New York and other places where collections of short plays comprise an evening's entertainment. That's a great thing for an audience. You've got all kinds of variety set up in those evenings and it's great for playwrights who are developing the craft and learning the importance of efficiency of text that can sometimes get lost when we're sitting there watching."
On monologue delivery.
As Demastes says, "The better plays are the ones that have multiple interpretations. If I tell a student or actor what I think it is, that's fine as far as I'm concerned. But when it comes to, 'What do you see in it?,' we try to work that through." In coaching a student in the nuances of a speech, Demastes marvels at the tiny surprises that lie waiting to be uncovered. "Sometimes a vague idea comes and we try to make it more specific, more concrete," he says. "Sometimes ideas contradict [themselves]. How do you get them to work together? Maybe the contradictions are the theme itself, and you've got that to play with. How much of the monologue do you want? Do we want to embellish, build on it, or add some speech that you yourself would be interested in incorporating?" No question is too small when it comes to exploring a monologue.
On his favorite play.
When asked about his all-time favorite piece of drama, Demastes admits his preference may change as much as daily. "Today it would probably be 'The Merchant of Venice,' " he says. "I'm doing an upper division Shakespeare class, we started with 'The Merchant of Venice' and every play that follows, we're looking into how each play echoes it." He stops to think. "And if I had another play to say is my favorite, I'd probably go with Tom Stoppard's play 'Arcadia.' I still think I haven't seen the perfect production yet."
Looking for new material for your next audition? Try "The Monologuer" for a customized search!
Photo: Bill Demastes (L) with playwright Tom Stoppard (R).