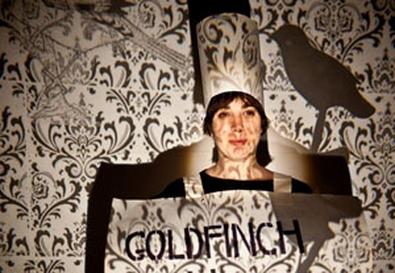 Upon entering the ever-adaptable space at St. Mark's Church for Karinne Keithley's perplexing "Montgomery Park, or Opulence," audiences are first given 20 minutes to examine a modest exhibition of documentary relics. These curios are from a fictional upstate asylum called Montgomery Park, and they range from photos to case files to recorded audio histories. From this raw data, the inexplicable saga of a living building and the cultish philosophy developed by its occupants soon come into focus. Did the inhabitants of Montgomery Park, as the insurance report suggests, really burn the place down with pure psychic energy? Twice? Just as you begin to fully grasp this paranormal vibe, you are calmly summoned through ornate paper walls, designed by Daniel Burnam, into another chamber, where three doctors further expound upon the elusive locale through shadow puppets and callisthenic dance.
This performance portion, which touches upon the building of Montgomery Park and the first fire, puts courageous amounts of trust in its audience, who are made to listen to unaffected voiceover recordings in the dark and to follow indecipherable phrases as they rapidly slide across an overhead projector. While this multifaceted info dump is endlessly interesting, the inherently splintered nature of Keithley's library of eccentricities renders it sadly inert and mostly impenetrable. As the three doctors, Katy Pyle, Emily Wexler, and Keithley nimbly alternate between operating projection equipment, harmonizing a few gorgeously sung parts, and executing Keithley's jittery choreography (created in collaboration with Pyle and David Neumann).
The overachieving Keithley, who wrote and co-directed the piece (again with Pyle and Neumann), also crafted a majority of the artifacts on display in the museum section. One striking item serves as a handy summation for the overwhelming cognitive patchwork that is "Montgomery Park, or Opulence": a small print of line-art geese and the word "secret." The small museum placard beside it reads something to the effect of: "What secret is revealed is no longer clear."

Presented by the Incubator Arts Project at St. Mark's Church, 131 E. 10th St. NYC. Nov 4–13. Tue., Thu.–Sun., 8 p.m. (212) 352-3101, (866) 811-4111, www.theatermania.com, or www.incubatorarts.org.