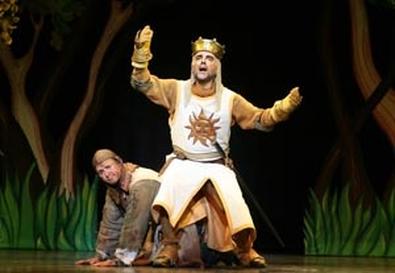 "I am not dead yet," croons a suddenly resuscitated would-be corpse in this gloriously goofy musical, based on the 1975 film
Monty Python and the Holy Grail
. This Tony-winning romp—skillfully crafted by Eric Idle (book, lyrics, co-composer), John Du Prez (co-composer), Mike Nichols (director), and Casey Nicholaw (choreographer)—likewise persistently bounces back throughout its frenetic duration. A gag here or there misfires, and the skeletal plot is little more than a collage of zany Hasty Pudding sketches. Yet, thanks to a relentless stream of irreverent jokes, a zesty score, and a crackerjack ensemble, this is among the most satisfying of film-to-stage transplants. This spry adaptation retains the spirit of the beloved source material, while smoothly metamorphosing into the conventions of a luscious Broadway confection.
Python fans might find special resonance here; the opening-night audience sometimes laughed a few beats ahead of cue at visual or verbal jokes. But this adaptation is as much a spoof of the musical comedy genre as any of the sacred cows retained from the original material. Riotous riffs on
Fiddler on the Roof, West Side Story
, and
Company
hit the bull's-eye, alongside scatological jokes, jabs at Hollywood costume epics, and good-natured pokes at gays and Jews that give Mel Brooks a run for his money. Camp and burlesque humor drive the loopy story of legendary King Arthur of Camelot, as he and his motley knights go in search of the Holy Grail of happiness, which includes the traditional boy-meets-girl (and boy-meets-boy) romantic consummations and the chance for a hammy bunch of Middle Ages clowns to follow their destiny to the bright lights of Broadway.
Heading the loony warriors is Arthur, played to deadpan perfection by John O'Hurley, a deft song-and-dance man whose tongue-in-cheek portrayal is a continual delight. Equally terrific is Merle Dandridge as the Lady of the Lake, a Vegas-ready diva with a mean belt, breaking the fourth wall to bemoan her token role and relishing the satiric bite of Idle's sidesplitting lyrics in the mock-Webber ballad "The Song That Goes Like This." Choice comic characterizations abound, including Christopher Sutton's mincing Prince Herbert, James Beaman's cowardly Sir Robin, Ben Davis' dashing Sir Dennis Galahad, and Jeff Dumas' trusty servant Patsy. Rick Holmes is a four-star hoot as macho Sir Lancelot, who shows his true Peter Allen colors in the divinely demented disco number, "His Name Is Lancelot."
Tim Hatley's inspired set and costume designs and Hugh Vanstone's lighting combine Disney cartoon effects with splendidly gaudy showbiz kitsch. Gregory Meeh's special effects and Elaine J. McCarthy's projections are filled with sly humor. Music director Ben Whiteley serves up the jaunty songs with panache. Class and sass seamlessly merge in this irresistible orgy of madcap medieval mirth.
Presented by Center Theatre Group at the Ahmanson Theatre, 135 N. Grand Ave., L.A.
July 8–Sept. 6. Tue.–Fri., 8 p.m.; Sat., 2 and 8 p.m.; Sun., 1 and 6:30 p.m. (Additional performances Thu., 2 p.m., Aug. 6 and Sept. 2. No performance Sun., 6:30 p.m., Aug. 9 and Sept. 6.) (213) 972-4400.
www.centertheatregroup.org.