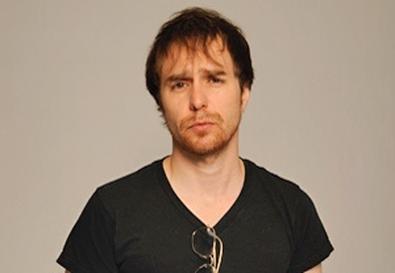 In the science fiction drama "Moon," Sam Rockwell spends most of his time acting opposite himself, playing two clones of a man working in a lunar laboratory. And how did Rockwell find working with Rockwell as a scene partner?
"Very difficult," the actor says, sighing. "He's a very selfish actor."
It seems like Rockwell is everywhere lately, and not just playing multiple versions of himself in "Moon." He also stole scenes in November's "Gentlemen Broncos" and can now be seen as Robert De Niro's son in the comedy-drama "Everybody's Fine." In that film, Rockwell is extremely effective as a man desperate not to disappoint his father. It's a surprisingly low-key performance for the actor, who seems to veer toward more-offbeat roles—think the sex addict who might be related to Jesus in last year's "Choke" or the game-show host who doubles as a CIA spy in "Confessions of a Dangerous Mind."
Even in "Moon," Rockwell manages to subtly create two very distinct characters from the same man. Playing a man named Sam who comes face-to-face with a clone of himself (and realizes that he too might be a clone), Rockwell imbues each character with a fully developed personality. "The concept that the director, Duncan Jones, first came up with to propel the movie," Rockwell explains, "was this idea: If you met yourself…would you like yourself?"
Back Stage
: How did the role in "Moon" come to you?
Sam Rockwell
: I met Duncan for another film that he's still intending to do called "Mute." It's about a mute-deaf action hero who protects this prostitute. He wanted me to play one of the bad guys—I think the character was a doctor, but he was also a child molester. And I just wasn't interested in doing that, even though they were good parts. I offered to play the mute, but he wanted a big guy for it. So I said, "We'll do something else together." He said, "What are you interested in?" I said, "I'd like to play a hero or a protagonist who's a blue-collar guy." And for some reason, we started talking about science fiction, which led to a discussion of how in "Alien," the characters were really blue-collar. They were regular people in an extraordinary circumstance. We discussed how real the acting was in movies like "Outland" and "Silent Running" and "2001" and "Blade Runner." The acting is so good, when the monster shows up in "Alien," you're totally sucked in. You're able to fall into these imaginary circumstances. So we talked about that and how it doesn't really exist anymore in science fiction. He went off and got Nathan Parker to write this thing—where the character's name is even Sam. I was ending "Frost/Nixon" and hadn't had a chance to read it yet, and he called me and said, "Are you going to read this fucking thing? I wrote it for you!"
Back Stage
: For most of the film, you're alone on camera or acting opposite yourself. Is that awesome or just difficult?
Rockwell
: It's awesome, but the closer we got, it was daunting. It became clear to me after rehearsing and playing around that it was going to be a monumental task. We had such a short amount of time. So I watched a lot of buddy movies. "Midnight Cowboy" was very helpful because of the sick impediment that Dustin Hoffman has—because one of my clones is sick. I sort of copied his tuberculosis thing. In fact, I stole a lot from that movie. I also watched quite a bit of "Dead Ringers" with Jeremy Irons, where he plays twins. It's a brilliant film, and it's the best I've ever seen that done. I've seen it done in a few movies—I liked what Michael Keaton did in "Multiplicity." But Jeremy Irons does something very special in that movie, and I listened to his commentary and it was helpful.
Back Stage
: Did you ever get confused which role you were playing?
Rockwell
: They're very different. I mean, I hope they are. But it was very confusing. And we were working on a short schedule; we only had $5 million and 33 days. So it was intense. We'd get three takes, if we were lucky. The scene where the clones are playing pingpong was done in one take, no safety. On most movies, even when you're playing an intense part, you have a break and can rest your brain. With "Moon," there was no rest. I was always thinking ahead, like a chess game: What problem will I solve next? In a single day, I would have to play both roles. What helped was I would have to go into makeup between the clones—since one is sick—so that would allow me about an hour to get back into character.

Back Stage
: How did you go about acting opposite yourself?
Rockwell
: There was a body double who was sort of a novice actor, this guy Robin Chalk. I would also use tennis balls, and the script supervisor would help. In advance, I did a lot of preparing with my acting coach. And I read with my friend Yul Vasquez. We'd improvise and switch parts, and Duncan would videotape it and incorporate the improvisations into the script. This was a dark story, so we wanted to infuse some humor into it. So we'd rehearse and hone the script down, and I would bust Duncan's chops about the backstory. There was a lot of preparation ahead of time. We had to know it backwards and forwards before we started.

Back Stage
: You also get to act opposite Robert De Niro, playing his son in "Everybody's Fine." The director, Kirk Jones, said this was the hardest role to cast, because so many people wanted it.
Rockwell
: Is that right? I thought I was, like, 10th choice on the list or something and people turned it down.
Back Stage
: You didn't think people would be lining up to play De Niro's son?
Rockwell
: Well, it was a small part. But you might be right—I mean, I was dying to do it. And I have a mole, too, so I had a leg up there.
Back Stage
: Were you at all intimidated to be sharing scenes with Robert De Niro?
Rockwell
: You can't do that. I worked with Gene Hackman once, and you have to treat them like they're just another actor. It's hard. It's probably not a great idea to watch "The French Connection" right before you work with Gene Hackman, though. But at this point, I'm 40, and I've done enough stuff now that I can kind of feel okay. It is nerve-racking, but Bob is such a nice man and so very real. His acting is so real, you mustn't overact when you're around him. I pride myself on my conversational reality, but he doesn't do any acting; it's all effortless.
Back Stage
: You've been working steadily for the last 20 years, yet you often hear about how this next role is going to be the one that makes you a mainstream star—
Rockwell
: I hear that all the time. I'm the slow and steady horse.
Back Stage
: Do you ever get tired of hearing it?
Rockwell
: You know, I've had so many close calls with that kind of stuff. I did a pilot for NBC when I was 18, and people were blowing smoke, and I ended up getting fired from it. It was called "Dream Street." Ed Zwick produced it. It was kind of a "thirtysomething" in New Jersey, a blue-collar "twentysomething." When I heard the pilot got picked up, I called the writer-producer Mark Rosner and said, "Hey, I heard the good news!" And he said, "Yeah, we're going to have to make a couple of changes though.…"

Back Stage
: Did they say why?
Rockwell
: The network didn't want me. I think I was a little too street or edgy or something. They wanted somebody more all-American. But they hired me back to play the best friend of the character I used to play. And it was actually a better part. I had a gold chain and a goatee, and I drag raced. They let me do all the things I couldn't do as a regular. I got to smoke cigarettes and be a badass.
Back Stage
: Is that when you knew that maybe your future lay in character roles?
Rockwell
: Well, I like the Jimmy Stewart parts, but I like the Robert Mitchum parts too. I like to do both. I've always admired Jon Voight, what he did in the '70s, and Jeff Bridges. It's great to do a little bit of everything.
Outtakes
-Other films include "Box of Moonlight," "The Green Mile," and "Galaxy Quest"
-Says "Moon" is, in many ways, an homage to Ridley Scott, one of his favorite directors, whom he almost worked with twice—says he was fired from/quit "G.I. Jane" after boot camp and was unable to do a role in "Black Hawk Down"—before finally working with him on "Matchstick Men"
-Early jobs include busboy, delivering burritos on a bicycle, and intern for a private investigator. The difference between an assistant and an intern? "He didn't pay me."