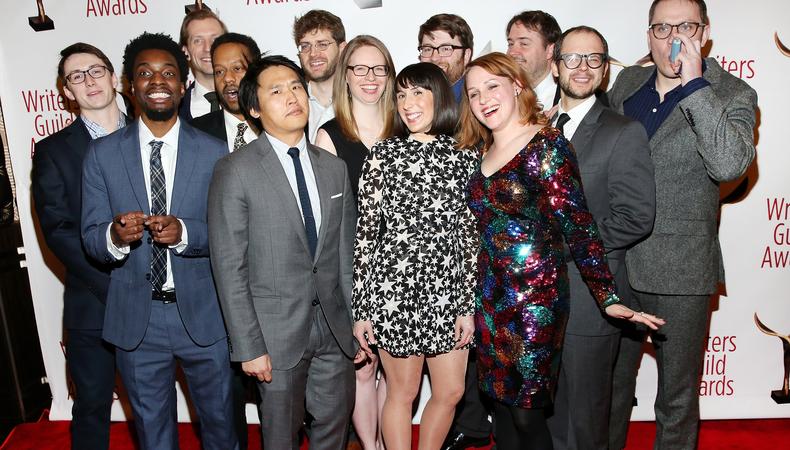 Writers in both New York City and Los Angeles were crowned Feb. 19 in recognition of their achievements in film, television, new media, and more. The 2017 Writers Guild Awards celebrated the best screenwriters in the biz, including Barry Jenkins and Tarell Alvin McCraney for "Moonlight," Eric Heisserer for "Arrival," Susannah Grant for HBO film "Confirmation," and FX series "The Americans."
The cable network, in fact, fared particularly well with the guild, earning additional wins in the adapted long form category for "The People v. O. J. Simpson: American Crime Story," plus in both comedy and new series categories for "Atlanta." Showrunner and star Donald Glover was honored alongside his writing team: Stephen Glover, Jamal Olori, Stefani Robinson, and Paul Simms.
Unusually, "Moonlight" took home the top award in the original screenplay category (besting other awards season winners "Hell or High Water," "La La Land," "Loving," and "Manchester by the Sea") despite being nominated for adapted screenplay at the Academy Awards. Writer-director Barry Jenkins is widely considered that category's front-runner at the Feb. 26 ceremony.
READ: 1 Secret to Casting First-Time Actors in "Moonlight"
Lewis Black and Patton Oswalt hosted the festivities at New York's Edison Ballroom and The Beverly Hilton in L.A., respectively. Honorary award recipients at the ceremonies included Grant, Oliver Stone, Aaron Sorkin, Richard Curtis, Dan Wilcox, and the late Abbas Kiarostami. Steve O'Donnell of "Late Night with David Letterman" accepted the Herb Sargent Award for Comedy Excellence, while Jelani Cobb of "Policing the Police" was honored with the inaugural Walter Bernstein Award, recognizing writing that demonstrates a commitment to social justice.
David Simon presented screenwriting legend John Waters with the Ian McLellan Hunter Award for Career Achievement. "Decades ago, a critic once wrote that my screenplays 'were merely clotheslines to hang out my dirty wash,' " said Waters in a statement. "I'm glad the WGAE disagrees—or maybe they DO agree, who knows? Either way, I couldn't be more honored and excited to get this award."
For a partial list of this year's WGA winners, see below. Visit wga.org for more.
ORIGINAL SCREENPLAY
"Moonlight," Screenplay by Barry Jenkins, Story by Tarell Alvin McCraney (A24)
ADAPTED SCREENPLAY
"Arrival," Screenplay by Eric Heisserer; Based on the Story "Story of Your Life" by Ted Chiang (Paramount Pictures)
DRAMA SERIES
"The Americans," Written by Peter Ackerman, Tanya Barfield, Joshua Brand, Joel Fields, Stephen Schiff, Joe Weisberg, Tracey Scott Wilson (FX)
COMEDY SERIES
"Atlanta," Written by Donald Glover, Stephen Glover, Jamal Olori, Stefani Robinson, Paul Simms (FX)
NEW SERIES
"Atlanta," Written by Donald Glover, Stephen Glover, Jamal Olori, Stefani Robinson, Paul Simms (FX)
ORIGINAL LONG FORM
"Confirmation," Written by Susannah Grant (HBO)
ADAPTED LONG FORM
"The People vs. O.J. Simpson: American Crime Story," Written by Scott Alexander, Joe Robert Cole, D.V. DeVincentis, Maya Forbes, Larry Karaszewski, Wally Wolodarsky, Based on the book "The Run of His Life" by Jeffrey Toobin (FX)
ORIGINAL SHORT FORM NEW MEDIA
"The Party" from "The Commute," Written by Linsey Stewart & Dane Clark (youtube.com)
ADAPTED SHORT FORM NEW MEDIA
"Part 4" from "Fear the Walking Dead: Passage," Written by Lauren Signorino & Mike Zunic (amc.com)
ANIMATION
"Stop the Presses" from "BoJack Horseman," Written by Joe Lawson (Netflix)
EPISODIC DRAMA
"The Trip" from "This Is Us," Written by Vera Herbert (NBC)
EPISODIC COMEDY
"Kimmy Goes on a Playdate!" from "Unbreakable Kimmy Schmidt," Written by Robert Carlock (Netflix)
DAYTIME DRAMA
"General Hospital," Writers: Shelly Altman, Anna Theresa Cascio, Andrea Archer Compton, Suzanne Flynn, Janet Iacobuzio, Elizabeth Korte, Daniel James O'Connor, Jean Passanante, Dave Rupel, Katherine Schock, Scott Sickles, Chris Van Etten, Christopher Whitesell (ABC)
CHILDREN'S EPISODIC
"Mel vs. The Night Mare of Normal Street" from "Gortimer Gibbon's Life on Normal Street," Written by Laurie Parres (Amazon Studios)
CHILDREN'S LONG FORM
"Once Upon a Sesame Street Christmas," Written by Geri Cole & Ken Scarborough (HBO)
COMEDY / VARIETY TALK SERIES
"Last Week Tonight with John Oliver," Writers: Kevin Avery, Tim Carvell, Josh Gondelman, Dan Gurewitch, Geoff Haggerty, Jeff Maurer, John Oliver, Scott Sherman, Will Tracy, Jill Twiss, Juli Weiner (HBO)
Check out our film audition listings! And for industry advice, visit Backstage's YouTube channel: