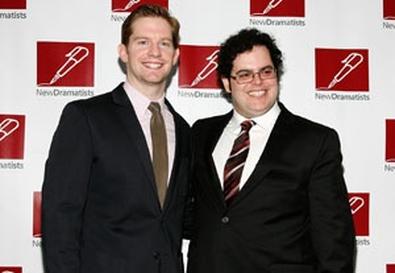 NEW YORK – After every performance of the hit Broadway musical, "
The Book of Mormon
," Josh Gad and Rory O'Malley bow side-by-side, a nightly celebration of a journey the two began as college roommates more than a decade ago.
Since living together as freshmen at
Carnegie Mellon University
in Pittsburgh, Gad and O'Malley, both nominated for
Tony Awards
, have been best friends. They've each performed in only one other Broadway show before, also together, as replacements in "The 25th Annual Putnam County Spelling Bee."
Now, they're at the center of the "Mormon" sensation, sharing the heights of Broadway stardom just as they shared the depths of a dorm room. Gad is up for lead actor in a musical, O'Malley is vying for the featured actor trophy and the show itself has a staggering 14 nominations, including best musical.
"I really feel like someone's doing this," O'Malley says of the serendipity.
"Oh, yeah," chimes Gad. "It's a cosmic joke at this point."
In the satirical musical by "South Park" creators Trey Parker and Matt Stone, and "Avenue Q" composer Robert Lopez, the 30-year-old Gad plays Elder Cunningham, an awkward, bumbling Mormon missionary. He and Elder Price (Andrew Rannells, also nominated for the lead actor in a musical Tony) travel to Uganda, where the closeted Elder McKinley (O'Malley) is leading the mission.
Gad, who has been a "Daily Show" correspondent and co-starred in such films as "The Rocker" and "21," stands out as the most purely funny performer — a Charlie Chaplin-influenced clown.
O'Malley, who earlier caught on in Los Angeles theater and had a part in the film "Dreamgirls," has his big moment when he sings "Turn It Off," a mock ode to keeping homosexuality hidden. It's a particularly ironic number because O'Malley has been out since he was 19 years old and co-founded the gay rights group Broadway Impact.
During a recent joint interview following the annual Tony luncheon for nominees, Gad and O'Malley still had not gotten over their good fortune, peppering nearly every answer with humble, wide-eyed exclamations of, "It's crazy!"
"We have to stop and pinch ourselves and remind ourselves that what we're experiencing is a once in a lifetime thing," says Gad. "This doesn't happen. It just doesn't. We stopped and we looked at each other yesterday and today and we were just like, `Can you believe that over a decade ago we were in college together wanting to just do regional theater, if we could? And today, we're best friends standing side by side with Tony nominations."
Gad, a South Florida native, and O'Malley, who grew up in Cleveland, became roommates when Gad's original roommate dropped out. Having already realized their bond in acting, O'Malley moved in. It was bumpy at first.
Gad: "Let's talk about the torment of that year, and the putting each other through hell, back and forth."
O'Malley: "If you want to go there, that's fine. My conscience is clean. I don't know about yours."
Gad: "Really??"
O'Malley: (threatening) "I've got another story."
Gad: (quickly relenting) "All right. Let's just say that Rory and I had a very lightening first year together where we learned a lot about each other."
O'Malley: "Once he woke up and I was lying on top of him. ... I passed out on top of him."
Gad: "It was terrifying, is what it was."
O'Malley: "He passed out many times our senior year from imbibing too much. So at least mine was in freshman year."
If it's not already clear, the two friends interact like an old married couple.
"Rory is Oscar and Josh is Felix," says composer Lopez. "They're kind of like Ernie and Bert. One time, Rory was walking with a cookie and glass of water down a long hallway at some event, and he said, `Josh made me get it for him.'"
During college, Gad wrote a musical called "Axis of Evil, or al-Qaida: the Musical," in which O'Malley played former Vice President Dick Cheney. Gad acknowledges it was "a little Trey Parker-Matt Stonian."
"They're opposites in a sense," says Anthony McKay, associate professor of acting at Carnegie Mellon, who auditioned Gad. "Rory is kind of steady and solid and very talented, but is willing to stand his turn and wait. He doesn't push himself forward — his talent speaks for itself. Whereas Josh was ever-present, doing all sorts of projects and always approached the work with fun. Josh was kind of a zeitgeist."
After graduating in 2003, O'Malley moved to Los Angeles, falling in with the Troubadour Theater Co., and Gad, intent on making it onto "Saturday Night Live," came to New York. But the two remained good friends and found themselves together again on "Spelling Bee." As struggling actors, they often leaned on each other — O'Malley the calm, rational one, and Gad the one who wears his neuroses on his sleeve.
An epiphany hits Gad: "I just realized: I've been whining to you about productions my entire life. I apologize."
O'Malley responds: "Twelve years I've been listening to this hypochondriac complain about everything."
When Gad insists O'Malley plays too much of the devil's advocate when dishing advice, O'Malley defends himself:
"I try to see the bright side," he says. "Whenever he comes to me with total devastation, I go, `Well, you know. ...' We just had the Tony luncheon, one of the biggest moments of our lives. What is the first thing Josh has to say when we get together? `Did you see it? CNN breaking news: Cell phones do cause cancer! I told you!'"
"Innocent people need to know," Gad insists.
O'Malley was a groomsman at Gad's wedding. And despite seeing each other constantly for "Mormon," they will still hang out on days off, as they did recently to shop and see the action movie "Thor."
"You have to explain it to people a couple times that we really are this close," says O'Malley. "When things like this happen to you, no matter what they are, they're not worth anything if you can't share them with someone — your family or your loved ones. I can't share this with my mom the same way I can with Josh."
They say, though, that their mothers might be enjoying the ride the most. They'll be sitting together Sunday night at the Tonys.
Says O'Malley: "Everyone should have one of their best friends nominated for a Tony with them."
---
Copyright 2011 Associated Press. All rights reserved. This material may not be published, broadcast, rewritten, or redistributed.