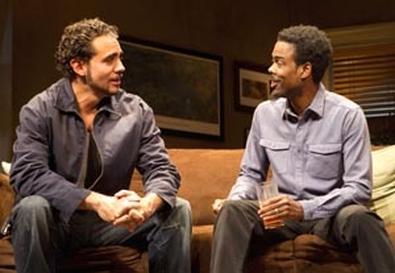 As its title indicates, Stephen Adly Guirgis' "The Motherf**ker With the Hat" is provocative and profane, but, just as those two asterisks blunt that title's immediate impact, the Broadway production of this raw, wild comedy-drama compromises the author's and director's vision.
Anna D. Shapiro's direction is basically balanced and powerful. Just as she did with "August: Osage County," this gifted stager skillfully combines intense, fiery confrontations with softer, sympathetic insights into relationships, this time for a gripping picture of a group of current and former alcoholics and addicts. Guirgis, a co–artistic director and member of LAByrinth Theater Company, which is presenting the play with the Public Theater, has a striking way with pungent dialogue and makes us care about people who have no problem pausing to snort a line of cocaine after advising a parent to stop drinking. The letdown is in the inappropriate star casting, which is a definite trend this Broadway season.
Comedian-actor Chris Rock is a naturally funny guy and probably the main reason this show is on the Main Stem rather than Off-Broadway, but he's totally wrong for Ralph D., a health-food enthusiast and Alcoholics Anonymous sponsor who has a habit of cheating on his wife, Victoria. In order for the play to work, we have to believe that Ralph is such a charismatic, charming guy that Victoria would stay with him despite his willingness to seduce any woman he can because he knows he can get away with it. Rock's Ralph is a variation on the comic's standup persona—a boyish smart aleck—not a commanding womanizer. The miscasting throws the whole play off balance, dangerously tipping it toward an HBO comedy special and away from an insightful character study.
Despite this central flaw—and it's a big one—there is still plenty to praise about "Motherf**ker." Fortunately, Ralph is not the play's central focus. That role—Jackie, a recovering alcoholic and Ralph's A.A. sponsee—is admirably filled by Bobby Cannavale. The main plot concerns Jackie's crumbling connection with his girlfriend Veronica, who is still drinking and drugging but maintains a steady job. The story is set in motion when just-out-of-jail Jackie discovers a piece of unfamiliar headgear in their shared apartment (hence the title) and accuses Veronica of stepping out on him. This possible betrayal threatens to send him back to the bottle, and Cannavale compassionately delineates every painful second of Jackie's struggle. Both literally and figuratively, Cannavale is stronger than Rock. This disparity is made awkwardly clear in a fight scene in which we're meant to believe that the skinny Rock's Ralph D. gets the better of the much bigger Cannavale's Jackie.
The fiery Elizabeth Rodriguez gives us a many-sided Veronica, who is both a foulmouthed shrew and a tenderhearted woman. Yul Vázquez wisely underplays Jackie's eccentric cousin Julio, and Annabella Sciorra does the best she can with the underwritten Victoria.
Mimi O'Donnell designed the character-specific costumes, and Donald Holder provided the properly stark lighting. Set designer Todd Rosenthal not only cleverly conveys three very different NYC apartments in one setting, but he also gives us vital, specific clues about the occupants of each one. Luckily, four of the five actors do as well.
Presented by Scott Rudin, Stuart Thompson, Public Theater Productions, LAByrinth Theater Company, Fabula Media Partners, Jean Doumanian, Ruth Hendel, Carl Moellenberg, Jon B. Platt, and Tulchin Bartner/Jamie de Roy at the Gerald Schoenfeld Theatre, 236 W. 45th St., NYC. April 11–July 17. Tue., 7 p.m.; Wed.–Sat., 8 p.m.; Wed. and Sat., 2 p.m.; Sun., 3 p.m. (No performance Thu., April 14.) (212) 239-6200, (800) 432-7250, or www.telecharge.com. Casting by Jordan Thaler and Heidi Griffiths.