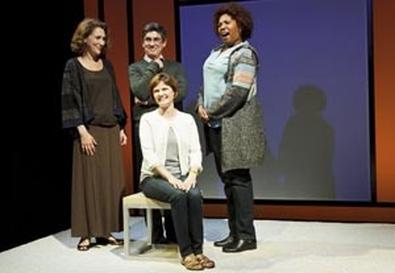 Motherhood comes in all shapes and sizes, and "Motherhood Out Loud," a series of monologues on the diverse and cyclical nature of maternity, never fails to strike both the funny bone and the heart. Anyone who is or has a mother, a stepmother, a foster mother, or anything in between will be able to relate to and enjoy this insightful piece, conceived by Susan Rose and Joan Stein.

The evening unfolds in five parts—each comprised of an introductory fugue and three monologues—charting the mother-child relationship from birth to the first day of school to the talk explaining sex to graduation to leaving the nest. It feels like a "Chicken Soup for the Soul" of sorts, and despite having 14 playwrights, including Lisa Loomer, Theresa Rebeck, and David Cale, the collection is impeccably cohesive and rarely lulls. It flies by just like children often grow up too fast for their parents.

What makes the piece work so well is that its portrait of motherhood shows all facets of a family. From adoption to surrogacy to gay parenting to stepmothers, no stone is left unturned. Director Lisa Peterson brings out the humor and the drama in each monologue with ease. James Lecesne's well-timed delivery of Marco Pennette's monologue on surrogacy and gay parenting is one of the highlights. His character goes on about choosing an egg donor based on brains or looks, reminding his partner "that we live in Los Angeles," justifying his preference for the latter. Lecesne takes you from laughter to tears in moments, shifting from comic musings on the incompatibility of infants and a suede sofa to a touching account of how he explained his unconventional family to a mall Santa. Lecesne's delivery of Cale's "Elizabeth," about a son watching his mother suffer from dementia, is equally moving.

Randy Graff's performance of Michele Lowe's "Queen Esther," about a young boy exploring his gender identity, is heart-wrenching, while Saidah Arrika Ekulona embodies a distraught parent in Jessica Goldberg's "Stars and Stripes," focusing on a mother with a son at war. The evening is not all drama, though. Loomer's "New in the Motherhood" had me in stitches as actor Mary Bacon went on and on about park moms and play dates. There's also a reference to Kegel exercises as a metaphor for motherhood, which, surprisingly, works.

Set designer Rachel Hauck's backdrop looks like a modular 1960s painting, and three screens show well-used projections and animations designed by Jan Hartley and Emily Hubley, respectively. David C. Woolard's costumes are simple, while Christopher Kuhl's lighting accentuates each performance.

Some may be initially deterred by the title and the subject matter, but you have to put aside any preconceived notions about the topic. The play will grab you, as a mother in any form has a long-lasting effect whether you like it or not.

Presented by Primary Stages at 59E59 Theaters, 59 E. 59th St., NYC. Oct. 4–29. Tue.–Thu., 7 p.m.; Fri., 8 p.m.; Sat., 2 and 8 p.m.; Sun., 3 p.m. (212) 279-4200 or www.primarystages.com. Casting by Stephanie Klapper Casting and Telsey + Company.