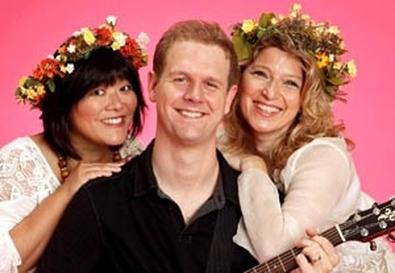 You read the title "My Mother's Lesbian Jewish Wiccan Wedding" and think, "Oh, God. Is this another cheesy 'Tony and Tina's Wedding' clone?" Luckily, no. This musical "Wedding" is something unique and thoroughly enjoyable.
Written by singer-songwriter David Hein and his wife Irene Sankoff, "Wedding" is based in part on the real-life experience of Hein's mother after a messy divorce. Acoustic guitar in hand, Hein narrates the story. His mother Claire (Liz Larsen), a college professor, moves from Nebraska to start a new life in Ottawa, Canada. She rents a room from Michelle (Cicily Daniels), a lesbian. Claire, a lapsed Jew, meets and falls deeply in love with Michelle's friend Jane (Ann Harada), a practicing Wiccan. Together the pair move in together and become involved in protests to legalize gay marriage in Canada. When a teenaged Davy (Lev Pakman) moves to Ottawa, Claire reveals her new relationship to him as well as to her ex-husband Garth (Bart Shatto). Later, the older David (Hein) meets Irene (Sankoff), and they fall in love. When marriage becomes legal in Canada, weddings for both couples are planned.
In "Wedding," Hein and Sankoff have created a warm and rich universe. The duo's wry sense of humor is in evidence everywhere, from the cat-loving Michelle to the Claire and Jane's quirky relationship and their mothering of young Davy. The title of one hilarious number gives a hint: "Don't Take Your Moms [to Hooters]." But the play takes on serious subjects as well, portraying very bluntly and angrily in "Protest/Short History of Gay Marriage" the American hypocrisy for not allowing gay marriage while its neighbor to the north—as well as many other Western nations—are way ahead on this issue. Director Stafford Arima and choreographer Matt Williams do a tremendous job translating the couple's vision into a vivacious performance.
The cast overall is terrific. Broadway veterans Larsen ("Most Happy Fella") and Harada ("Avenue Q") exhibit wonderful chemistry, and together they bring real heart to this relationship. Larsen, in particular, sparkles, communicating in songs like "10,000 Feet" the utter joy of this strong woman seeking a new beginning. Shatto is also delightful, particularly in "Garth's Turn." And Christina Decicco does a fun turn in the aforementioned 'Hooters' number.
Presented by the New York Musical Theater Festival at TBG Theatre, 312 West 36th Street, NYC. Remaining performances: Fri., Oct 15 at 11 p.m., Sat., Oct 16 at 9 p.m. 866-811-4111 or www.nymf.org.