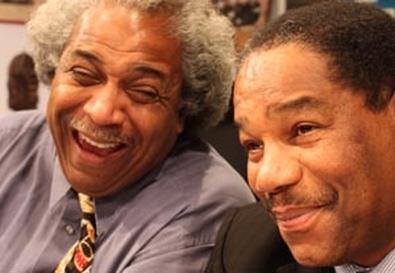 The two lead actors in this production of "The Motor Trade," Norm Foster's ode to the working man, carefully craft an authentic sense of history between their characters, bringing to the stage an effortless chemistry essential to the story.
Phil (a charismatic, fast-talking, and funny Alex Morris) and Dan (a beautifully restrained Dan Martin) jointly own Doral Valley Motors. The men have covered much ground in their 21-year business relationship, seeing each other through multiple marriages, family deaths, and divorces. On this slow, snowy day at the office, however, their friendship will be tested, as a lack of customers finds these two filling the void with chitchat that evolves into serious revelations about their covert betrayals of each other. When Dan tells Phil he's thinking about leaving the business, Phil can't fathom his partner's decision to bail.
It's a pleasure to watch Morris play the macho, philandering funnyman to Martin's silently sophisticated Dan. Seeing the characters bicker and goad each other is like watching old neighbors snipe over property lines. But as minor pissing matches give way to friendship-threatening disagreements, things go from funny to sad fairly fast.
Jeff Murray directs with special attention to all the small details of the world of the play.
Presented by and at Theatre/Theater, 5041 W. Pico Blvd., L.A. March 18–May 15. Fri.–Sat., 8 p.m.; Sun., 3 p.m. (323) 850-6344 or www.theatretheater.net.