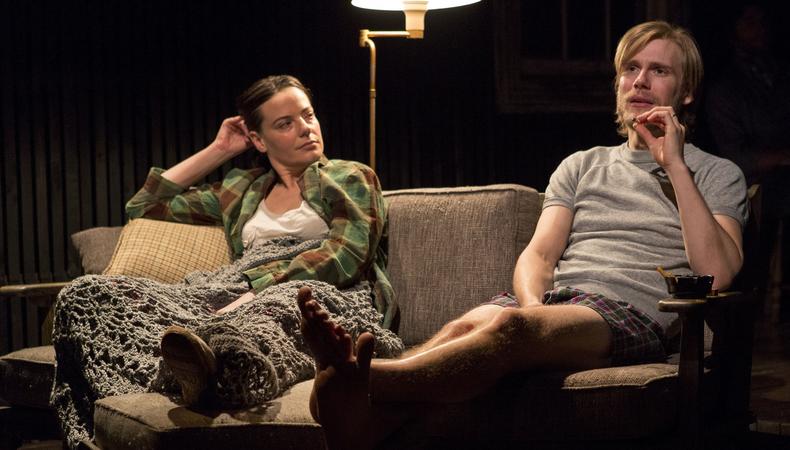 Lanford Wilson's 1975 play "The Mound Builders" is, according to Wilson's published preface, constructed to resemble the process at an archaeological dig, where scientists painstakingly sift through dirt to find artifacts. This makes it extremely important for the playwright's subtle slices of exposition to be delivered with maximum clarity. That's not always happening in Act 1 of director Jo Bonney's revival for Signature Theatre, which is why the show takes too long to start cooking. Fortunately, Act 2 catches fire, and the drama ends as a reasonably satisfying meal.
Told in flashback, the play begins in midwinter with college professor August Howe tape-recording his comments, to be transcribed by his assistant, about the events of the past summer, when his archaeological team was working on Indian mounds in southern Illinois. August's spiel is intended to explicate the many photographic slides that his wife, Cynthia, took of the proceedings, which are projected on the back wall of Neil Patel's evocative set of the first-floor interior of a battered old wooden house. Disjointed scenes from the past come alive around August, who steps in and out of some of them. Completing the team is August's assistant, Dr. Dan Loggins, a bit of a stoner but highly competent, who has brought along his pregnant wife, Jean, a gynecologist. Also present are August and Cynthia's 11-year-old daughter, Kirsten, who would have preferred summer camp, and August's famous but difficult globe-trotting novelist sister, D.K. (Delia) Eriksen, who collapsed on a Cleveland street and is shipped by plane while still very weak to her none-too-pleased brother. Hovering on the edges is local blue-collar guy Chad Jasker, whose father owns the rented house.
As events—and there aren't a lot of those—go forward Wilson sorts through his characters' lives. August and Cynthia's marriage is shaky, Chad has been jilted by Jean for Dan but is not yet resigned to the fact, and the emotionally damaged Delia may have given up writing altogether. The dig is a race against the clock, as a new dam is going to flood the area. Even the house will be under water, and the level of the gathering lake is rising daily.
David Conrad's August is a bit too emotionally removed, with the actor missing a crucial moment up top to convey the depth of August's antipathy toward his now ex-wife. Janie Brookshire, as Cynthia, also holds her cards too close to the vest early on, though both actors rise to the occasion in a climactic confrontation. Lisa Joyce is a poised, straightforward Jean, an island of calm amid chaos. The excellent Zachary Booth brings sweetness and a restless energy to man-boy Dan, while Will Rogers is a memorable Chad, needy, eager, and ultimately very scary. The talented Rachel Resheff makes what she can out of Kirsten, who's mostly a device. In the showy role of the cutting, self-dramatizing Delia, Danielle Skraastad dominates her scenes, ferociously concentrated in her attitude yet also vulnerable.
"The Mound Builders" may be minor Wilson, but even in a flawed production it packs a walloping final payoff.
Presented by and at Signature Theatre, 480 W. 42nd St., NYC. March 17–April 14. (212) 244-7529 or www.signaturetheatre.org. Casting by Telsey + Company/William Cantler.
Critic's Score: B-