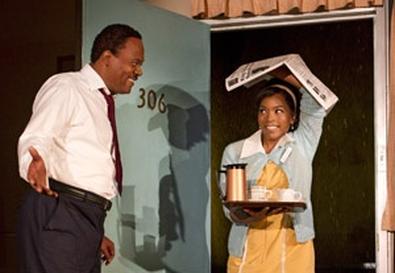 This won the Olivier Award for best new play? The question kept flashing through my mind while sitting through "The Mountaintop," Katori Hall's two-character fantasy set on the night before Martin Luther King Jr.'s assassination in 1968. I did not see the London production, which garnered the aforementioned honor, but this American incarnation is so broadly acted by Angela Bassett and directed by Tony nominee Kenny Leon ("Fences," "A Raisin in the Sun") that it reduces its complex subject to simplistic sitcom material. Hall's script is equally reductive, treating the civil rights era and its impact as if they were Hallmark TV-movie fodder.
The press release respectfully requests that critics not divulge any plot twists. Without giving away the 90-minute play's big surprise—which you should be able to guess within the first 10 minutes—I can say the realistic storyline soon takes on a cosmic bent, veering into "Twilight Zone" territory. Suffice it to say David Gallo's sets and projections as well as Brian MacDevitt's lighting perform some spectacular tricks.
King (a convincing Samuel L. Jackson) is relaxing in a shabby motel room in Memphis, Tenn., where the dynamic leader has come to help settle a sanitation workers strike. As he waits for his colleague Ralph Abernathy to return with cigarettes, King receives a visit from a mysterious maid named Camae (the overacting Bassett), who knows more about him than your average motel employee. The fact that the balcony right outside the room is where King will be shot the next evening should give perceptive audience members a clue as to Camae's real identity. The two flirt, share smokes, and debate the effectiveness of King's nonviolent methods for achieving equality for African Americans. The dialogue and structure always feel forced, as if Hall were coming up with flimsy excuses for Camae to stay in the motel room until her true purpose is revealed. The playwright has a worthy topic—King's legacy—but she examines it shallowly, settling for easy laughs and sentimental tears. She fails to delve into the complexities of race relations in America today or in 1968.
It doesn't help that Bassett delivers such an exaggerated performance, it's hard to believe her as a real person. When Camae reveals who she really is, credibility is stretched so thin it snaps. Every line is accompanied by an outlandish gesture, a widening of the eyes, or an undulating of the body. Fortunately, Jackson underplays King and convincingly conveys the icon's charismatic public persona and his private, fallible side. He has King's Southern drawl down pat and uses it effectively when the reverend is rehearsing his famous speeches and as he turns on the charm for Camae. This is a human King, who smokes, drinks, flirts, and harbors fears about death and the future. Too bad the character is inhabiting such a sketchy play.
Presented by Jean Doumanian, Sonia Friedman Productions, Ambassador Theatre Group, Raise the Roof 7, Ted Swondon, Alhadeff Productions/Lauren Doll, B Square–4 Productions/Broadway Across America, Jacki Barlia Florin/Cooper Federman, Ronni Planalp/Moellenberg Taylor, and Marla Rubin Productions/Blumenthal Performing Arts at the Bernard B. Jacobs Theatre, 242 W. 45th St., NYC. Oct. 13–Jan. 22 . Tue., 7 p.m.; Wed.–Sat., 8 p.m.; Wed. and Sat., 2 p.m.; Sun., 3 p.m. (212) 239-6200 or www.telecharge.com. Casting by Jim Carnahan.