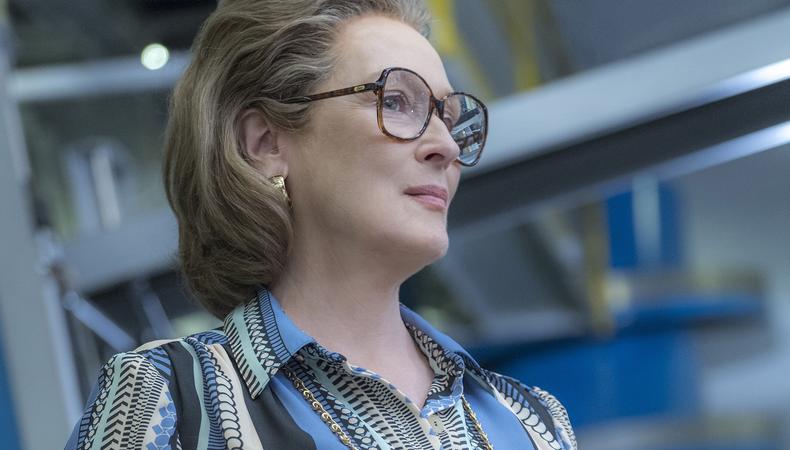 Conventional wisdom when it comes to the Academy Awards is that drama is king. Just think about what comes to mind when you hear the phrase "Oscar bait." You didn't think of a Will Ferrell comedy, did you? Or a "Fast and the Furious" sequel? No, you thought of a fussy period drama, featuring a lot of actors in ruffled petticoats speaking in English accents of various quality. Meryl Streep is probably in it, too.
But in this awards season honoring the best of 2017, rules seem to have been thrown out the window as to what works with the Oscars. Horror indie "Get Out" is a contender. "Three Billboards Outside Ebbing, Missouri's" foul mouth has yet to hamper its progress all season. Queer romance "Call Me By Your Name" is trying to duplicate "Moonlight's" success with the Academy of Motion Picture Arts and Sciences. Even "The Post," easily the most Oscar bait-esque movie this year (Streep's even in it!), has an energy and verve that would separate it from the pack in most years.
Just how unprecedented is this Academy Awards race? Would "Get Out" be the first horror movie to take home Oscar gold? Does voters' apparent bias mean a comedy like "Lady Bird" is doomed by its genre? We decided to dip into the annals of history to find out.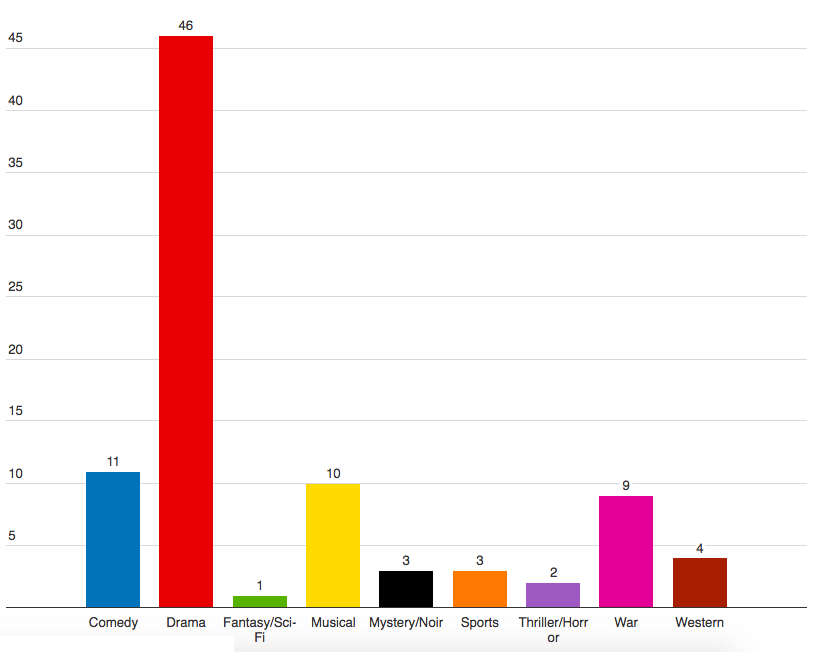 Counting the Best Picture Oscar winners, organized by genre.
This year's Academy Awards will be the 90th in history. Of the previous 89 Best Picture winners, 46 could be classified as some kind of drama—historical study, biopic, period piece, etc. The first of those was "Grand Hotel," which won the 1931/32 trophy (the Oscars previously weren't so evenly divided by year). Before that, two war movies, "Wings" and "All Quiet on the Western Front"—as well as one musical, "The Broadway Melody," and one Western, "Cimarron"—took the top prize.
Drama's reign has been consistent from the very beginning: no more than five years have ever gone by without a drama seizing the title. The last non-drama to win was 2014's "Birdman," ultimately classifying itself as a comedy (2011's "The Artist" was also far from dramatic).
Only one fantasy or science fiction film has ever won Best Picture. That's 2003's "The Lord of the Rings: The Return of the King," of course, which did what the other trilogy installments could not and swept Academy honors. Additionally, only one thriller and one horror film have ever seized gold: the 1971 thriller "The French Connection," and 1991's horror king "The Silence of the Lambs." Should this year's Best Picture nominee "Get Out" take home the Best Picture Oscar this year, it would be following in large-but-lonely footsteps.
However, just looking at the Best Picture winners is no longer a suitable exercise. Something inextricably changed in 2009, when the number of Best Picture nominees was increased to up to 10. Since then, with more room to play, Oscar voters have gotten more experimental, leading to some intriguing inclusions.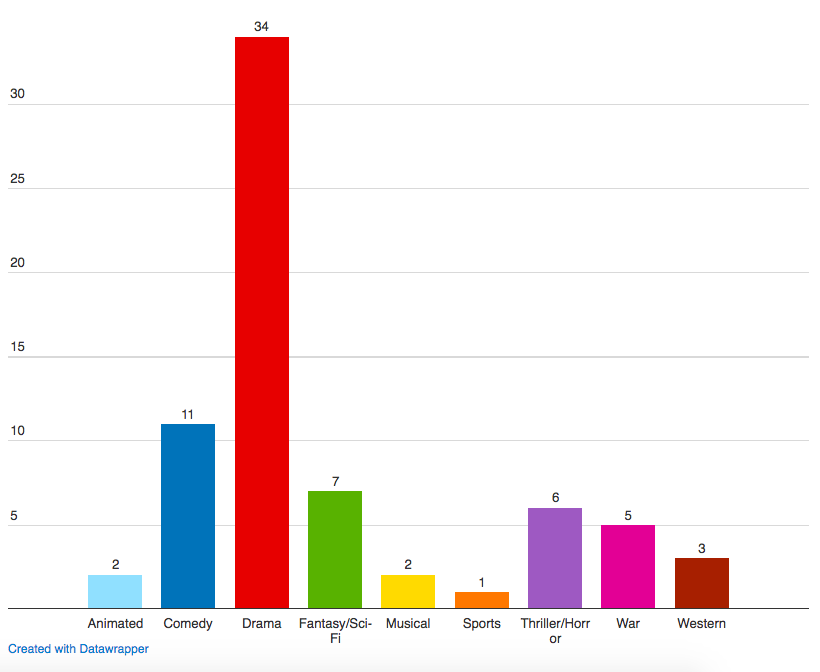 Counting the Best Picture Oscar nominees by genre, 2009–17.
Out of 71 Best Picture nominees from 2009 to 2017, only 34 have been dramas. (This sounds like more of a drop before you work out the proportion: It's 47.8 percent of the nominees, versus dramas making up 51.6 percent of all Best Picture winners. Still, progress!) Thriller and horror movies tripled in representation versus all Best Picture winners, while the fantasy and sci-fi genres have earned seven Best Picture nominations in just eight years.
So what are the big takeaways here? One is obvious: Since the rule change, Oscar voters have become more open to nominating movies outside the serious drama genre. We can't prove that correlation equals causation in this case—they may have been equally experimental with just five nominees; sci-fi flick "Avatar" was almost certainly getting nominated in 2009, for instance. And while their nomination habits show a new appreciation for different genres, Academy voters' taste in winners has not changed much. Of their eight Best Picture victors since the category expanded, five have been dramas: "The King's Speech," "Argo," "12 Years a Slave," "Spotlight," and "Moonlight."
READ: Are Indie Films the Future of Awards Season?
Still, genre only tells part of the story. Last year's "Moonlight" is a drama, yes, but it's also a gritty indie about a queer, black man growing into himself. That kind of story may not have scored with Oscar even five years ago, much less 50. Race-motivated horror like "Get Out," small-scale comedies like "Lady Bird," or sci-fi-fantasy spectacles like "The Shape of Water" may not statistically fare the best chance, but could it become the right movie to champion at this precise moment in history?
Put simply: The Oscar tides are changing. It's slow, but you can see the movements. Soon enough, genre bias among Academy voters may be a thing of the past.
For more analysis and news from the frontlines of film awards season, click here!
Ready to star in an Oscar winner? Check out Backstage's film audition listings!