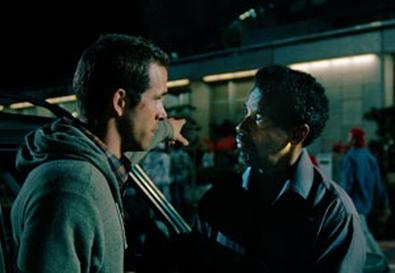 Ryan Reynolds is terrific in this smart, heart-racing thriller that toplines Denzel Washington, also in ace form as a slippery CIA traitor. Call it a cross between the "Bourne" movies and Washington's "Training Day" (for which he won an Oscar). Though it lives in familiar territory, "Safe House" is the kind of action flick that rarely comes up for air and will leave most audiences on edge throughout.
The primary draw is the pitch-perfect chemistry between Washington and Reynolds, who turn this into something resembling an anti-buddy movie. Washington's Tobin Frost is on the run as a notorious CIA turncoat and ends up in a Cape Town, South Africa safe house run by the likable if somewhat naive Matt Weston (Reynolds). After a raid on the place, they find themselves cut loose, the only two to come out alive. Frost goes into overdrive with his attempts to evade and trick Weston, who is determined to turn him over to the CIA brass, a prize catch if ever there was one. The bulk of the movie—which involves a lot of car chases, street chases, violent clashes, and gunfire—consists of watching the cat-and-mouse game these two play. Frost is the veteran fugitive, and Weston is the junior operative who tries to give it all he's got and gets beaten up in the process. There's a superfluous romantic subplot involving Weston, but it is really his tricky relationship with Frost that quickens the pulse and keeps the film humming, under the expert direction of Daniel Espinosa.
For Washington, this complex, shifty guy is like catnip to play. He brings his A game to this one, a nice departure from recent action-hero roles. Grainy, almost documentary-style cinematography aids him in making Frost a character we don't like but certainly want to watch. If anything, there isn't enough of Frost in the film. He's almost second banana, in terms of narrative thrust, to Reynolds' nervous Weston. But Reynolds also brings his A game and gives as good as he gets in their scenes together.
This is also the most roughed-up Reynolds we have seen onscreen, and the actor seems to be relishing the opportunity to mix it up. The performance is a vast improvement over his wooden Green Lantern last season. Among the supporting roles, the clear standout is the great character actor Brendan Gleeson, portraying a guy who's not exactly what he seems and giving it a nice, complicated twist. Vera Farmiga is not as lucky in her by-the-numbers role that largely confines her to the CIA operations room, similar to other uninspired parts she's done in this type of action vehicle. Sam Shepard delivers an authoritative turn as a CIA boss.
Overall, it's Swedish director Espinosa who keeps this thing moving like a freight train, and though it falls prey to the standard elements we have seen hundreds of times, the star power at the top of the call sheet makes it a worthwhile journey.
Genre: Action thriller
Director: Daniel Espinosa
Writer: David Guggenheim
Cast: Denzel Washington, Ryan Reynolds, Sam Shepard, Vera Farmiga, Brendan Gleeson, Rubén Blades