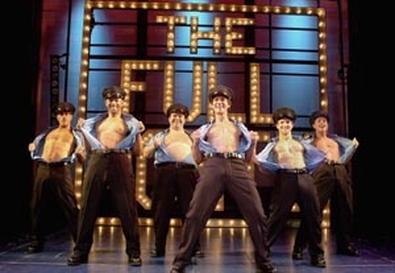 Michelle Duffy cut her performing teeth as a rock singer and subsequently forged a successful acting career dominated by nonmusical roles. But during the past few years, she has been cast primarily in musicals, which she finds somewhat restrictive to her creative fulfillment and career goals. John Bisom, who got his first taste of the industry as a child extra on "Little House on the Prairie," had no singing or dancing training when he happened upon a career in musical theater. Both performers work hard to transition between musicals and nonmusicals, when given the opportunities.

That 'Musical Woman'
Duffy, born and raised in Wheeling, W.V., had been singing since she was a baby. She began studying piano and flute and went to choir camp as a child. In junior high, she took her first acting class, and her college degree program was musical theater. In high school and college, she supported herself with singing jobs. But as she says, "My bread and butter was singing, but my passion has always been acting." She says her early fascination with collecting every cast album gradually faded, except for Sondheim shows.
Duffy received her Actors' Equity card after appearing in a play in Pittsburgh. She then moved to Chicago, where her first play was "My Children! My Africa!" She came to California in 1995, and in 1996 became a member of Burbank's Colony Theatre, where she did plays ("Our Country's Good") and musicals ("Putting It Together"). She says she loves playing Tennessee Williams' "terrific women's roles," such as Stella in "A Streetcar Named Desire," which she performed in San Francisco.
But beginning in 2006, with La Mirada Theatre's "Johnny Guitar," Duffy fell into a cycle in which one musical seemed to lead to another. "I suddenly became this sort of musical woman," she says with a laugh. Cementing her in this new direction was her portrayal of the lead character of Pistache in director David Lee's revamp of Cole Porter's classic "Can-Can" at the Pasadena Playhouse in 2007. After that, prominent local groups—Musical Theatre West, Civic Light Opera of South Bay Cities, and others—continued enlisting her services as a musical star. She returned to Pasadena Playhouse in 2008 for what she considered a particularly rewarding musical role: the biker mom Rusty in the stage adaptation of "Mask."
Duffy began to realize that this string of tuners made it nearly impossible for her to get cast in plays anymore. She feels strongly that there is a bias against musical performers, and that once an actor is cast in that mold, it's difficult to get called in for nonmusical roles. Could some of it be attributed to artistic snobbery? "Oh, my God, yes," she replies. "It's not just from John Q. Public. I know many actors who don't like musicals. They will say that it's ridiculous to break into song walking down the street. They also think of musicals as not real acting." When this attitude exists in the casting community, it can be extremely limiting for performers like Duffy. "It's sort of like your legitimacy gets taken away from you," she says. She notes that much of this has to do with the general trend toward very specific typecasting, as actors are instantly thought of in a certain range, particularly for TV and film roles. "It's almost a detriment to be too versatile," she observes.
Steven Glaudini, who has successfully worn many hats in the industry—actor-singer-dancer, producer, director, theatrical agent (for Kazarian/Spencer/Ruskin & Associates), and artistic director (originally for Performance Riverside and currently for Musical Theatre West)—considers Duffy a prime casting candidate for diverse roles. In fact, Glaudini was her agent when her string of musical roles began here. He recalls her as saying, "Hell has frozen over! I've booked a musical in L.A." He also agrees with Duffy that convincing some of those who cast to break down their stubborn bias against musical actors is an ongoing challenge.
In Duffy's view, the ideal career is one in which an actor is able to do it all. "Doing many different kinds of projects helps keep me creative," she says. Fortunately, she is newly cast in Steven Dietz's play "Shooting Star," opening in mid-September at the Colony Theatre.
Crooning for His Supper
Bisom recently enjoyed his first job in a road production, playing Sam in the North American tour of "Mamma Mia!" Over the years, he has occasionally played nonmusical roles on television, did a voiceover role in the first "Shrek" film, and has been cast in nonmusical plays such as "As You Like It" and "After the Fall."
Born and raised in Long Beach, Calif., Bisom has consistently received critical praise for his performances in Southern California musicals, appearing with virtually every musical company in the L.A. vicinity, such as Musical Theatre West and FCLO Music Theatre. He has also done regional work, as with the Sacramento Music Circus and Music Theatre of Wichita.
Bisom says, "I completely stumbled into musicals. I had studied to be an actor at Long Beach City College and did plays there. Then about 1983, someone came to me and asked me to audition for a musical, and that's when I found out that I could sing." From there, the musical roles kept coming. Following those early breaks, Bisom took vocal and dance lessons, and he still gets brush-up vocal coaching, though he says most of his training has been on the job: "I met a lot of people who were willing to put me through some paces, and even teach me a little tap."
Bisom adds, "I always thought of myself as an actor, and I still approach any role in musicals as an actor first. Fortunately, I have the ability to sing. Musicals are challenging. Exposing yourself out there by suddenly breaking into song isn't an easy thing to do. You're very vulnerable in a way." He believes the most successful nonsinging performers who pull off musicals are those confident enough to approach the role as an actor: "They might not have the best singing voice in the world, but they are able to carry it through the song, and you believe them."
Glaudini thinks that in the current economy, actors who have musical skills as well as acting talent are sometimes wise to accept musical roles in favor of dramatic parts. As an example, he cites his wife, actor-dancer-singer Bets Malone, who a few years ago was delighted to be cast in a play at Milwaukee Repertory Theater but had to turn down the offer to accept a more lucrative job in the epic musical "The Ten Commandments." He says, "It would be great if we could all just live artistically and do what feeds our artistic souls, but you have to pay the bills."
Bisom has hopes for the future. "I've always wanted to [play Atticus Finch in] 'To Kill a Mockingbird,' " he says. "That's one of my favorite characters and favorite books. And I'm finally getting to the age when I can do it."