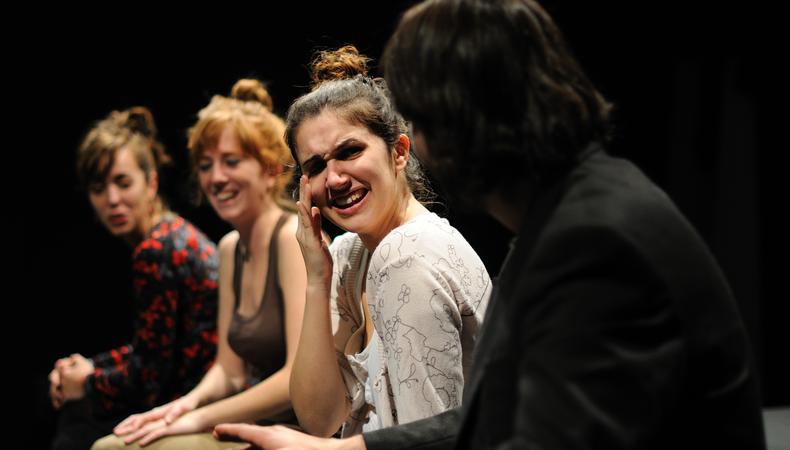 Let's say you've moved to New York, made your first few steps, maybe even found a place to live. Between auditions and job hunting, you decide you want to keep your acting game sharp. In a city like New York, your options are just about endless. Here's a little help to narrow them down.
Choosing the right course for you:
As the capital of the arts scene, New York has literally hundreds of way for you to learn the craft. From part time community classes after work, to joining an improv troupe on the weekends; from dance classes with Alvin Ailey to full-time study, the hardest part can often be figuring out where to start. Keep these things in mind when you're doing your research:
Budget. Obviously, part time courses and community classes will be much, much cheaper than a full-time program at NYU or Columbia. That said, many programs have scholarships, work study courses, and/or cheaper summer intensives to make things a little easier. If you're not sure you want to make a commitment, consider attending classes at your institute of choice before diving in.

Sector. While most full-time programs will offer a variety of courses in many backgrounds (stage acting, acting for beginners, musical theatre programs and more), short term courses tend to focus in on just one thing to really drive it home. Think about where you want to start and look for specialized options. Or, if you can't decide, consider starting with a basic course and moving on from there.

A well-rounded education. If you feel like you've got a hold of acting for now, and want to expand into other areas, look into programs that offer voice over or singing lessons, or take a few dance classes on the side. There are also programs that offer study in production, screenwriting, directing, and more.
Once you've figured out which direction you want to go, you'll want to start looking at local classes and schools. Here are a few suggestions—keep in mind, this list is hardly exhaustive.
For the budget-conscious actor: HB Studio
If you're still looking for a job, shelling out $300–600 bucks every couple months can seem a little daunting. HB Studio has a number of ten-week courses starting around $445, but if you're looking to just dip a toe, read up on how to audit a class for just $20. You can also audit a single class for free at the Kimball Studio.
For the beginner: Actor's Connection New York
Not only do they have a great 101 course for beginners, but with a focus on networking, AC New York promises opportunities to meet and greet your future collaborators. Check out their AC Starter Fast Track for the six-month "winning formula" to getting your acting career off the ground!
For the full-time student: Atlantic Acting School, American Academy of Dramatic Arts, The Acting Studio
If you decide you want to go the full-time route, New York has a variety of courses in traditional theatre, musical theatre, film acting and more. These schools offer all of the above and have some of the most competitive financial aid packages. Try the one-year conservatory ($12,000) with the Acting Studio, or the two-year program at the AADA for a completely immersive (if more expensive, starting at $37K) option.
Also consider: Neighborhood Playhouse, NY Performing Arts Academy
For the part-time student: T. Schreiber Studio, Barrow Group, Anthony Meindl's Actor Workshop
Maybe you can't commit to taking a year or two off to pursue a bachelor's degree, but you still want a hands-on acting experience. The city also has a trove of part time classes for you to take, ranging from weekly after work, to ongoing monthly courses, or longer, part time semesters.
For the traditionalist: Stella Adler Studio of Acting
Boasting alumni credits like Elaine Stritch and Robert DeNiro, Stella Adler is no stranger to training the greats. The studio offers both full-time and part-time courses, with, for instance, a four-week voice-over program starting at $350.
For the triple-threat: Circle In the Square Theatre School
It's exclusive (think just 54 students admitted per year), but it's earned it. Wicked star Idina Menzel graduated from this program. Check out the full-time, two-year, musical theatre program for more details.
For the singer: Krowne Vocal School
Looking to make the move to Broadway? The city also offers dozens of singing and vocal courses. Check out their five-week group course if you want to save a little money, starting at $159.
For the dancer: Ailey Extension
The up-and-coming triple threat will want to make use of the many courses and technique offerings at Ailey Extension. While their national programs features professional dancers all over the country, their downtown studio teaches everyone from casual beginners to training professionals. Check out their adult workshops, offered weekends and evenings.
For the movie star: NY Film Academy
If this seems like a no brainer, that's because it is. NYFA may have its roots in screen acting, but it has since expanded to offer part time and full-time training in live acting, stage combat, digital editing, film production, cinematography, and more. Start with a one-week acting for film intensive this fall!
Check out Backstage's New York City audition listings!