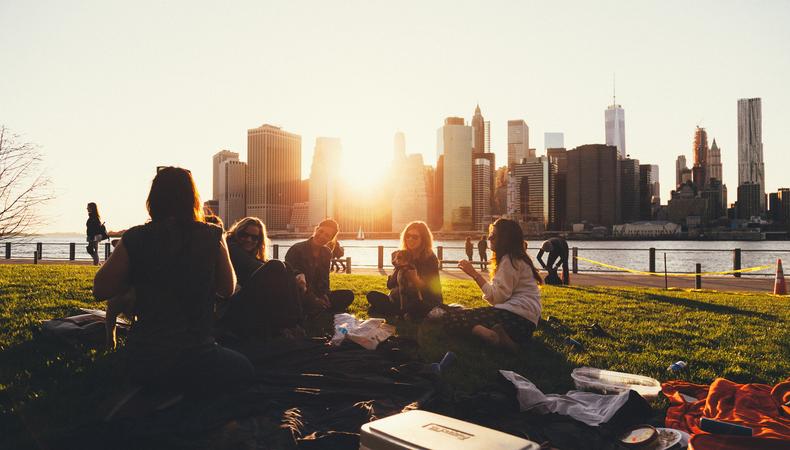 If you're a new (or not-so-new) actor in New York, you probably know it can be tough to find your people. Trying to fit in a little chill time between jobs, scripts, and auditions isn't easy, and doesn't leave much time for networking, let alone finding new friends to fill your comp seats on opening night.
If you're looking to find your tribe in the city, here are five ways you can get started.
Find a class.
Not only will an acting (or singing, or dancing) class keep you sharp for your next audition, it can also be a great way to scope out new friends, collaborators, or even employers. You never know, maybe the person trying out their time step next to you will be the next Cartier Williams. Check out our Backstage Guide to finding an acting class for more tips!
Volunteer.
Gone are the days of simply volunteering to be an usher on Broadway—but if you're looking to spend a little extra time in the theater, many smaller theaters offer robust volunteer (or internship) programs. Even if you'll be spending the majority of your time in admin or ticketing, working in theaters is, unsurprisingly, a great way to meet theater people. Check out the Actor's Theatre Workshop volunteer program to get started.
Put on a show.
Still waiting on your first professional gig? If classes feel too formal or stuffy (or pricey), organizations like After Work Theater provide opportunities "for everyday people to perform in New York City...in a stress-free environment."
While these may not seem like the obvious choice, especially if you're looking to get paid, remember you're in New York, and even "stress-free" theater can be the catalyst to meet collaborators and professionals in your field.
Or you can kill two birds with one stone: sign up for classes or lessons that offer regular recitals. Not only will you get the chance to perform and improve, but even if you opt for private lessons, you can meet fellow performers both in the audience and on the stage.
See a show.
Every theater fan has probably stood outside the stage door after a favorite show once or twice in a lifetime, and while it may be a good way to get an autograph, it's a little less effective in the "get a business card, find a friend" department.
Instead, opt for events like the weekly Broadway in Bryant Park series, which runs with current Broadway performers playing all summer long.
Or, if you prefer a more traditional post-show experience, try Young Member Nights with Playwrights Horizons and meet other young professionals.
Join a community.
Both the most obvious and most difficult bullet on the list, joining a community can be a little difficult right off the bat in a new city. Consider a "networking studio" like One On One or the prestigious (if somewhat exclusive) Actors Center—a great choice for someone further along in their career or who has spent a little more time in the city.
But you have other options if you're willing to dig a little. Actors are everywhere in New York if you know where to look. For example, I currently work for a marketing firm that employs a number of former (and current!) actors. A friend swears by weekly karaoke in the village, and another found a casting opportunity through her broker, who works with actors living in Inwood. Speaking of housing, the surprisingly active Gypsy Housing NYC Facebook page can be a trove of hidden gems with a little patience and charm applied.
In general, the best way to meet actors is exactly what you think: do what you love, volunteer, and ask around. And when in doubt? Read up on all the best hang outs—more on that next week.
Check out Backstage's New York City audition listings!