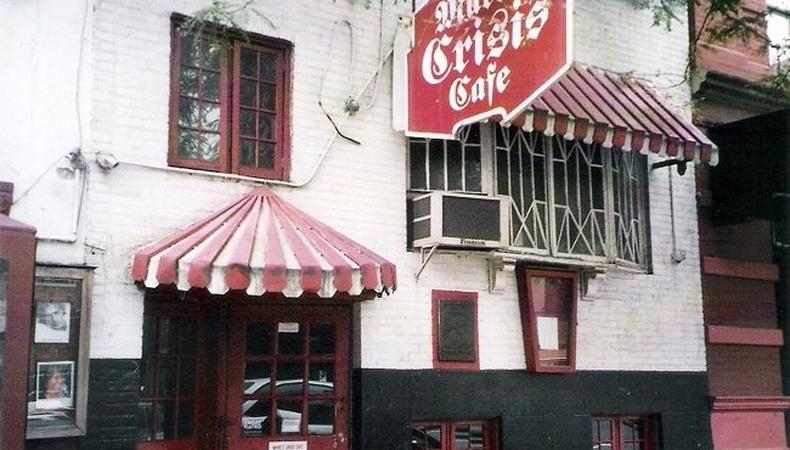 New York has a long history of attracting artists from far and wide. Whether you're looking to meet new friends, do a little networking, or just relax with like-minded folks, here are some of our favorite haunts for actors, theater buffs, musical-lovers, and everyone in between.
THE CLASSICS
Our tried & true favorites, these never fail to pull a (somewhat touristy) crowd. If nothing else, visit just so you can say you went!
Sardi's: This Times Square staple has been serving stars and tourists with cafe fare and famous caricatures for 90 years. (234 W 44th St.)
Marie's Crisis: The Greenwich piano bar boasts a Broadway belter crowd. (59 Grove St.)
Joe Allen: Grabbing dinner before a show? Get there early enough, and scan the crowd for a famous face or two. (326 W 46th St.)
THE DELICIOUS
For snacks, dinner, drinks, and cookies.
Bar Centrale: Grab a drink after the show and see if the cast dropped by for the same. (324 W 46th St.)
Green Symphony: Word has it actors come to this unassuming spot for a quick bite on those long two-show days. (255 W 43rd St.)
Corner Bistro: Cheap, quick, and not too far from many of the smaller theaters in the Village. (331 West 4th St.)
THE ARTSY
Broadway performing venues aren't the only place to rub elbows with marquee names.
Symphony Space: National Theater Live performances are broadcast from here regularly. Plus—a bar! (2537 Broadway)
The SAG-AFTRA New York Actors Center: With incredible resources for both members and (free!) for professionals, this is a great spot to get some work done and meet a future costar. (1900 Broadway)
THE DIAMONDS IN THE ROUGH
See the stars before they're stars (and get ready to head that way yourself).
UCB: AKA the Upright Citizens Brigade, which is not only a favorite improv training center but famously boasts alumni like Amy Poehler and Aziz Ansari. (307 W 26th & 153 E 3rd)
The PIT: Another improv favorite! Grab a ticket for a nightly show, or swing by for a class. (123 E 24th St.)
FOR WRITERS ONLY
Visit these quieter venues if you've got a poetic soul...or want to grab coffee with the next Suzan-Lori Parks.
The Drama Book Shop: Famously hailed by Lin-Manuel Miranda as the sort-of birthplace of "In The Heights." (250 W 40th St.)
Nuyorican Poet's Cafe: For fans of spoken word—or just the hip music scene—this place is a can't-miss. (236 East 3rd St.)
THE BACKSTAGE
For when you don't want to have to leave the theater to get ahead.
Joe's Pub & The Library: The Public Theater makes the "dinner and a show" trope that much easier by having not one, but two star-studded venues on the premises. (425 Lafayette)
Signature Theatre Lobby: Be sure to check out the pre- and post-show events at Signature's lobby, just a few blocks off Times Square. You don't even have to grab a ticket first (though you definitely should). (480 W 42nd St.)
THE ONSTAGE
Places to watch your favorite Phantoms and Glindas belt modern-day tunes—usually with a drink in hand!
West Bank Cafe: Locals rave about the Laurie Beechman Theatre, where current, former, and future Broadway stars perform weekly on Thursday nights. (407 W 42nd St.)
Birdland Jazz Club: Stop by Birdland on Monday nights for Jim Caruso's cast party, a musical variety show where "every week, a star might be born." (315 W 44th St.)
54 Below: Another Broadway-star favorite, 54 Below boasts nightly shows with names like "54 Below Sings Broadways Greatest Hits" and "Actor Therapy." (254 W 54th St.)
Check out Backstage's New York City audition listings!