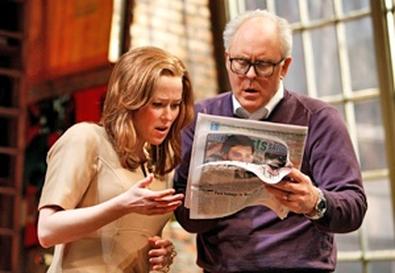 The set by Allen Moyer is a dream out of Architectural Digest. The clothes by Jeff Mahshie are stylish and chic. The two-person, Tony-winning cast is bubbly and fun. Yet all this dazzle and elegance can't disguise the fact that Douglas Carter Beane's tidbit of a play, "Mr. & Mrs. Fitch," offers all the dramatic nourishment of a tray of hors d'oeuvres. John Lithgow and Jennifer Ehle, playing married gossip columnists, do their damnedest to beef up the proceedings. Director Scott Ellis keeps them moving at a near-frantic pace as they sing show tunes, dance the Charleston, and rapidly deliver Beane's quips about our soulless, fame-mad society. But the fast shuffle only goes so far, and the champagne loses its fizz long before the final fade-out.

The Fitches are an erudite couple, sort of a higher-end Rush and Molloy, both vaguely dissatisfied with their frivolous lives. The wife—we never learn the first name of either character—urges her hubby to quit peddling gossip and work on his novel. Under deadline pressure, they concoct an imaginary star and ride his fictional coattails to tabloid glory. Beane does deliver some funny lines and makes a few valid points about America's celebrity obsession, a topic he's tackled with greater success in "As Bees in Honey Drown" and "The Little Dog Laughed." Ultimately, though, the script is as shallow as the culture the playwright wishes to indict.

Beane crams the script with references to everything from "The Brady Bunch" to J.D. Salinger to "Sweeney Todd." The remainder consists mostly of jokes about techno phenomena such as Twitter, Facebook, and the Kindle, as if he were checking off a grocery list of 21st-century gizmos. That's fine, but these quips feel as if they were written for an article rather than integrated into a play. There are other structural weaknesses. Beane never makes clear the extent of the couple's collaboration and fails to fully explore their sexual and romantic relationship. We learn that Mr. Fitch is bisexual and that Mrs. Fitch yearns for more physical intimacy. That's a promising development, but the author just mentions it and leaves it. In addition, he's inconsistent in his treatment of Mrs. Fitch. Would this dazzlingly intelligent woman mix up "indigenous" and "indignant" and confuse Sweden and Switzerland? These confusions are there just to get a laugh, as is a reference to the decades-old New York Post headline about a headless corpse found in a topless bar.

To be fair, there is some fun here. Lithgow gets to play piano and croon a Cole Porter tune, plus he's a stitch when simulating an orgasm of literary ecstasy as his spouse composes copy. Ehle is martini-dry and moving, particularly when delivering an insightful monologue concerning her character's visit to an Italian museum and what she discovers about mortality. But in the end, these are just random items in a scattered gossip column of a play.


Presented by and at Second Stage Theatre, 305 W. 43rd St., NYC. Feb. 22–April 4. Tue., 7 p.m.; Wed.–Sat., 8 p.m.; Wed. and Sat., 2 p.m.; Sun., 3 p.m. (No performance Tue., Feb. 23; evening performances Wed.–Fri., Feb. 24–26, at 7 p.m.) (212) 246-4422 or www.2st.com. Casting by MelCap Casting.