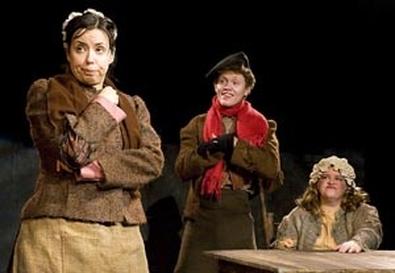 Brooklyn's Gallery Players is giving this piece of holiday frippery from playwright Christopher Durang its New York premiere seven years after the show debuted at Pittsburgh's City Theatre as a commissioned work. Though there is definitely fun to be had, it's a hit-or-miss, scattershot piece, overlong and, at least in its contemporary cultural references, a bit dated. The Players' production is more enthusiastic than skilled, but any version of Dickens' classic in which Scrooge buys the Cratchit family McDonalds' happy meals for their holiday feast is okay by me.
Durang's yuletide mash-up features a young African-American woman as narrator and all of the ghosts. Unfortunately, she's not quite in control of her magical powers, which leads to all kinds of confusion. Oliver Twist, Little Nell, George Bailey, and Clarence the Angel wander into the story at various points. Sometimes the characters can hear Scrooge and the Ghost, sometimes they can both hear and see them, and sometimes they can't do either. Mrs. Cratchit is a misanthrope who loathes children and her infuriatingly sunny hubby and finally decides to get drunk and jump off London Bridge. Though the show is not a musical, there are periodic musical numbers with lyrics by Durang and serviceably jingly tunes from Michael Friedman, whose more recent work includes the music and lyrics for "Saved" at Playwrights Horizons and the upcoming "Bloody Bloody Andrew Jackson" at the Public Theater. Mrs. Cratchit keeps undercutting the Ghost's goal of reforming Scrooge. He soon grows enamored of her nastiness, and she returns the feeling. It all resolves in a fractured retelling of "It's a Wonderful Life" when Mrs. Cratchit announces that she wishes she had never been born. Needless to say, the outcome isn't exactly that of Frank Capra's film or, for that matter, Dickens' story.
Durang's black humor requires a high degree of style to pop properly, but that's not always available in director Trey Compton's production. Among those who achieve it more often than not are a cheerfully abusive Douglas Rees as Scrooge (Rees originated the role in the Pittsburgh production), Doug Plaut as a Tiny Tim so brainlessly good that every mother on Earth would want to strangle him, and especially Adam Jonas Segaller, whose relentlessly optimistic and sentimental Bob Cratchit is a pleasure. In the title role, created by Durang diva Kristine Nielsen, Joanna Parson has some wonderful moments—particularly when she wonders why her crippled child is British when, she says, "I feel like I'm from Cleveland"—but she lacks consistency. Safiya Fredericks' Ghost has plenty of charm but not enough edge. Her extremely short rendition of "Camptown Races," however, is a high point.
Durang's references to Kenneth Lay, Jeffrey Skilling, "Touched by an Angel," and Harry and Leona Helmsley, among others, no longer land the laughs they undoubtedly once did. Still, any show that ends with the cockeyed moral, "If you're poor, you can be happy. If you're mean, you'd better get some money" still has plenty of relevance in post-crash America. For Durang fans, a trip to Brooklyn would seem to be in the Christmas cards.
Presented by and at the Gallery Players, at 199 14th St., Brooklyn, NYC. Dec. 5–20. Thu.–Sat., 8 p.m.; Sat., 2 p.m.; Sun., 3 p.m. (212) 352-3101, (866) 811-4111, www.theatermania.com, or www.galleryplayers.com.