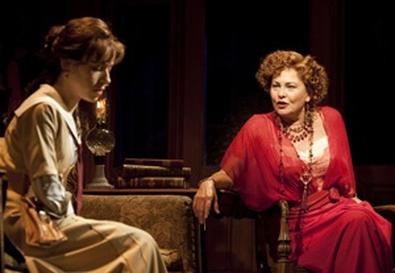 George Bernard Shaw's infamous play on the subject of female prostitution may be 117 years old, but its ideas still feel decidedly modern in director Doug Hughes' largely crackling production for Roundabout Theatre Company. Cherry Jones returns to the New York stage in the title role and proves once again why she is one of our finest actors.

Young Vivie Warren lives in considerable comfort in a lovely cottage with a garden in England's county of Surrey. The comfort is provided by her mother, Kitty Warren, a successful businesswoman who travels a great deal. Though she needn't work, the mathematically gifted Vivie plans to earn her own living in London by studying law and making actuarial tables. Having been boarded out most of her life, she doesn't really know her mother. But when Mrs. Warren arrives for an infrequent visit and announces plans to draw her newly adult daughter closer to her, Vivie discovers a lot more than she bargained for. Highly principled and rigorously unsentimental, Vivie surprisingly admires her mother when she finds out that the family fortune comes from a string of upscale European brothels. But she has trouble when she discovers that even though they have more money than they will ever need, the business continues, because her mother enjoys it and its dividends. Suddenly, everything is put at risk.

Shaw's main motivation in writing the play was to point out that women were so badly exploited in the workforce that many were driven into prostitution simply to survive. Along the way, he takes on the stifling hypocrisies of the British class system, makes a case for the dignity work brings, and airs his socialist beliefs. The play brims with cool, ironic wit and bristles with ideas, all of which are delivered clearly and with relish by Hughes and his company. Even better, they manage to fuse those ideas with living, breathing characters.

I've seen Uta Hagen and Dana Ivey do excellent work in the title role. Jones equals them, though hers is a much different Mrs. Warren. As Shaw requests in his stage directions, the character affects an upper-class accent and manner unless she is disturbed, when she reverts to lower-class speech. Jones instead creates a fascinating accent, more upper-class than not, that places the character solidly outside of polite society while still allowing her to function within it. Jones is also a much more sensual woman than is traditional. She looks smashing in Catherine Zuber's rich costumes, color-coded to Mrs. Warren's mood, and you can easily envision her as the center of attention in an elegant whorehouse. She also brings a broad emotional range to the part, with the intensity of her love and need for her daughter particularly compelling.

As Vivie, Sally Hawkins meets Jones head-on in their two knock-down, drag-out confrontations. At other times, however, especially in the exposition-laden first scene, Hawkins' too-casual diction and rapid-fire speech cause a lot of lines to get thrown away. She also has a tendency to get shrill in intense moments. When she focuses, she's smart, sharp, and riveting.

Adam Driver is an appropriately playful, lightweight Frank Gardner, a pass-the-time boyfriend Vivie has no intention of marrying. As his father, the local clergyman, Michael Siberry cuts an amusingly hypocritical, falsely pious figure. Edward Hibbert is reliable as always as Mr. Praed, a friend of Mrs. Warren's who revels in the arts, and Mark Harelik is suitably amoral and discreetly lecherous as Sir George Crofts, Mrs. Warren's pragmatic business partner.

Scott Pask's four sets are impressively sumptuous, and Kenneth Posner lights them with emotional acuity. David Van Tieghem provides the pinging original music, heard between scenes, that I can only describe as sounding like a Shaw argument.



Presented by Roundabout Theatre Company at the American Airlines Theatre, 227 W. 42nd St., NYC. Oct. 3–Nov. 21. Tue–Sat., 8 p.m.; Wed., Sat., and Sun., 2 p.m. (212) 719-1300 or www.roundabouttheatre.org. Casting by Jim Carnahan and Carrie Gardner.