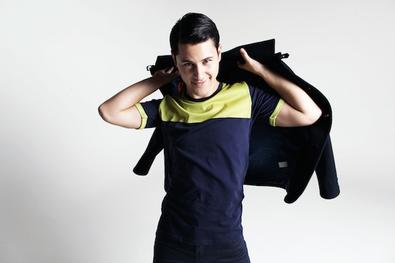 Michael Willett stars as the out and proud Shane Harvey on MTV's "Faking It," a show delivering both humor and an important message to its young audience.
On auditioning for "Faking It."
"[It] was a really different character for me and I crave variety, so it was really nice to read for this part. Carter [Covington, the show's writer] says when I walked in the room it was like Shane walked in the room. I really felt connected to this character, and I just wanted to walk in with all the confidence in the world because that's really what Shane embodies."
On the show's message.
"I think a big theme is that we're all on a journey of self-exploration, and that's something everyone relates to. Nobody really knows what they're doing in life—we're all just faking it, we're all just kind of thrashing around and seeing what we make of life, and that's something that will be lasting."
On trusting his acting instincts.
"As much as there are times when I feel like I could have given more or I could have had another thought or done something different, I can't go back. And every time I walk away from an audition and keep questioning what I did, I rely on the fact that in that moment, that was the best I could do, and that's all anyone can ask of you."
On the similarities between himself and Shane.
"Every character is a little bit of you and a little bit of everyone you've ever met, and so I definitely have pulled a lot of my own characteristics and brought them into Shane—like his love of fashion, his ability to talk to people about their problems and kind of counsel them. My friends always come to me for advice, and I like to think I help them! But there are also differences: He has a whole different perspective on relationships. He's a bit of a player and I'm a little bit more of a serial monogamist."
On working on TV versus theater or film.
"It feels amazing to have come this far because I started acting when I was 13 and this is what I've always dreamed of doing: To have a consistent job and consistent character and be able to really dig in deep, because even with a film you're only experiencing a character for, like, two hours, and with theater you only have a few hours with this character. With TV you have an ability to explore these characters for weeks and weeks and months and months for seasons, and that's really fun."
Inspired by this post? Check out our television audition listings!