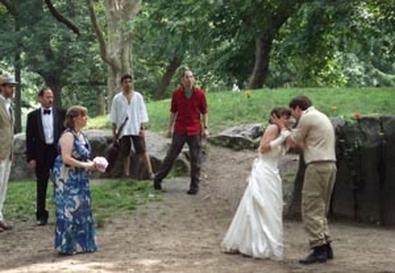 The tradition of free Shakespeare in Central Park is not exclusive to the Delacorte Theater. While the production quality hardly compares, Boomerang Theatre Company's "Much Ado About Nothing" succeeds with its offhand nature, and the quick-witted actors bolster the play's intellectual banter. The open-air setting is a passerby's paradise, and the show unfolds like a good street musician's performance. While viewers may not stay for the entire set, the entertaining respite complements a leisurely afternoon stroll.
Shakespeare's battle of wits suffers some due to nearby street traffic and the lack of microphones. Director Daniel Talbott has the actors facing the audience downstage most of the time; however, the performers stand on top of a nearby rock formation more often than they should, making hearing them more challenging. Fortunately, loud sparring matches pop up frequently, and Talbott's decision to have his actors shout certain lines works well. While yelling might seem like the easy way out in a production staged in an indoor theater, Beatrice and Benedick's hollering is suitable for the play, while also summoning a larger crowd.
Sara Thigpen and Nate Miller share a nice report as the foes-turned-lovers. Sexual tension, however, is hard to detect, a result of Miller's intentionally affected nature. At the masquerade ball, Miller's Benedick pretends to be an effeminate man, complete with a pink scarf to hide his identity, and the actor uses this persona throughout the play. Though Miller's shtick is highly entertaining, and it allows him some wonderful moments of improvisation, it also makes the more romantic and dramatic scenes something of a struggle. Thigpen has a powerful stage presence, and her volume trumps the casualness Miller employs for Benedick's retorts. It's clear who wears the pants.
Two other highlights are Colby Chambers, as Dogberry, the incompetent constable, and Edward Carnevale, as his kazoo-playing sidekick, Verges. While the characters act purely as a plot device, Chambers and Carnevale's perfect chemistry and humor is exactly what this production needs. (Chambers also delivers his lines via megaphone, which helps with the sound issues.) Carnevale parades around as Chambers leads the charge, and their antics definitely drew a substantial audience.
As the lovers, Hero and Claudio, Laura Ramadei and Brad Lewandowski play their parts well. Although soft-spoken, the pair's real function is to stand there and look pretty, and their longing looks and suggestive hand gestures say more than words could.
Clocking in at exactly two hours without an intermission, the show occasionally drags, and sitting in the dirt for the duration is not entirely comfortable. If you want to take in a refreshing afternoon of free Shakespeare in the park that you don't have to lose sleep over—did anyone get tickets to "The Merchant of Venice" last year?—bring a chair or a blanket. And make sure you sit near the front.
Presented by Boomerang Theatre Company in Central Park (enter at 69th Street and Central Park West), NYC. June 25–July 17. Sat. and Sun., 2 p.m. www.boomerangtheatre.org.