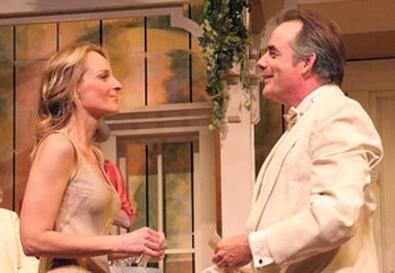 The fascination with this Shakespeare play is in its two leads, Beatrice and Benedick. They, of course, forswear marriage—until their equally averse opposite comes along. But why do these two so resist matrimony? Benedick is a guy, so probably no more need be said. Beatrice, however, must have a deep and intriguing backstory. Is she clinically depressed? Was she badly hurt by another man? Does she have "daddy" issues? Has she tried too often to stir a man's interest, only to be shot down each time? Or is she gaily independent, fully capable of surviving and thriving on her own?
Unfortunately, from the time Helen Hunt walks onstage here as Beatrice until the play's stiff hoedown finale, there's not a clue in sight as to why this Beatrice has remained single, let alone clues as to anything else about her. Hunt is part absentee actor, part bundle of tension. Her voice seems caught, her physicality limited and straining. It seems neither director Ben Donenberg nor her scene partner Tom Irwin could loosen her up. Irwin is left on his own to be a warmly appealing Benedick, seemingly smitten with Beatrice long before the action of the play begins but too busy and/or too tired of her acerbic rejections to pursue her—until now.
Also not helping to plead the case of this production is its setting and design. The action takes place today in California's wine country. Why? The only apparent reason is to superimpose on the story a grape-stomp and hootenanny—although the music, when not overwhelming the dialogue, is enjoyable, aided by the warm presence of Lyle Lovett. But what is royalty doing here? Costumes are sometimes puzzling, sometimes hugely unflattering. The ranch house set is distractingly painted over as a landscape.
So, what's to see here? Irwin's ease with the text. Dakin Matthews' charming, skillful turn as Leonato. The liveliness, luminousness, and sometimes utter conviction of Grace Gummer as Hero. Boracio's progression from pernicious to repentant, smoothly rendered by Chris Butler. And a presumably intentionally funny moment when the band plays the universally clichéd Pachelbel for the wedding scene.
Presented by Shakespeare Center of Los Angeles at the Kirk Douglas Theatre, 9820 Washington Blvd., Culver City. Dec. 12–19. Tue.–Fri., 8 p.m.; Sat., 2 and 8 p.m.; Sun., 1 and 6:30 p.m. (213) 628-2772. www.centertheatregroup.org/muchado.